Did you know that Chegg debuted back in 2005? Many of you would be quite surprised by this news, given that the platform significantly increased users during the 2020 pandemic.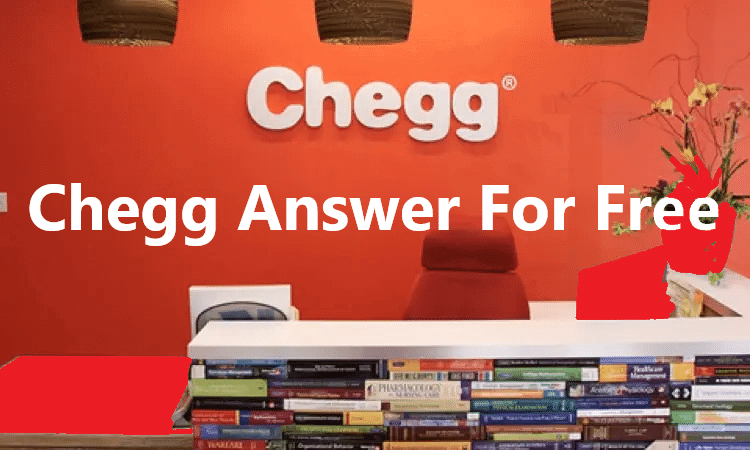 The platform has single handedly saved a lot of students during those difficult times when they were confined in their homes and needed to pass exams and assignments. So, the next time you hear a college goer say they Chegg their ways to get the answer, you know what they are up to.
The platform has also come under fire from critics who claim that it encourages students to cheat on exams, lowering the caliber of their own answers. But the app has often stated that its only goal is to help students. In any case, the app is rapidly growing in popularity, and more students are signing up for it every day.
We know that the platform provides premium services and that using them would cost money. But we'll talk about how to sign up for a 4-week free trial of Chegg in this blog.
We are delighted to assist you if you are a broke college student looking for ways to obtain free Chegg answers. Read till the end of the blog to learn everything about the topic.
What is Chegg 4 week free trial?
Everyone today is aware of the effectiveness of powerful marketing. Companies frequently provide free trials as a strong marketing strategy.
It is logical to assume that Chegg has also used this marketing approach for success. The good news is that the feature is doing a terrific job of attracting new users to the app on a regular basis.
Yes, you can get free answers on the app thanks to Chegg's kind offer of free trials to students. Please know, however, that not everyone is eligible to use the four-week free trial option. There is a requirement, and that is that you must be a new user of the app.
The app offers first-time users a total of 28 days, or four weeks, to test it out and choose whether it meets their needs. You might try looking into possible answers to your queries.
Additionally, a complimentary 30-minute tuition session is also included in the trial time. So, you can interact with the tutors and experience what it's like to use the platform.
This feature is obviously unavailable to you if you are already a member of the app. But read the sections below to know more about it.
Step-by-step instructions to get Chegg 4 weeks free trial
Let's get right to it and go over the steps you must take to access the free answers from Chegg through their 4-week trial in this part. We are happy to assist if you are unsure of how to go on about it.
We must inform you that the instructions are simple to follow and will only require a few minutes of your time. So, are you prepared to attentively follow the instructions? Let's get going immediately.
Steps to get Chegg 4 weeks free trial:
Step 1: Please navigate to your favorite browser on your device and tap on the search bar.
Step 2: You have to enter: Chegg and run the search.
Step 3: You will be whisked to the official page of Chegg. The sign up option must be present when you move down the page. So, scroll down to look for it and click on it when you find it.
Step 4: You should see the create an account page for the website. Follow the onscreen instructions and enter your email and password.
Step 5: Next, you must agree to the Terms of use and acknowledge the Privacy Policy and Cookie Notice. Now, you should click on the create account button below to continue.
Step 6: Go and select the I am student option on the new page.
Step 7: In the next step, they ask you to input your college or school name. So, fill in the information accordingly.
Step 8: Do you see your profile picture icon? Please go ahead and select My account.
Step 9: There must be a section labeled add payment methods. Please go ahead and tap on it.
Step 10: Please enter your card details to complete the process successfully.
Following these steps will ensure that you have access to the four-week free trial of Chegg.
Alternate ways to get free Chegg answers
The four-week free trial is only available to new subscribers. What if your exams are drawing near, and you have limited time to prepare for specific answers?
Chegg steps in to help you in a situation like this, but you lack the finances to do so. You should know that there are other options for getting free answers if you find yourself in these situations. Let's talk about a few of them now.
Join Discord servers for Chegg
Discord was originally made for the gaming community members, but over time, it has expanded to include a variety of other communities. So, you may join a number of Chegg-only servers on the app.
You can open them by searching for terms like top Chegg server on Discord and Chegg Discord server on your web browser. You can join those servers by clicking the link. You need to simply post your questions and wait for a community member to provide you with an answer.
Make use of the search engines
Why don't you try using the search engines if you require free Chegg answers? Yes, occasionally, search engines, with their vast database, will find you the relevant results right away.
We advise you to type your query into Chrome and run a search. Google will give you all the relevant results with the query you have entered. We suggest that you scroll through each page to find the solutions.
You'll discover the Chegg answers right here if you're lucky. Please know that you can also conduct the search using another browser, such as Firefox or Opera.
Wrapping up
We've come to the end of the blog; how about we talk about what we've learned today? So, the subject of our talk today was how to get a free 4-week trial on Chegg. We told you about this free trial plan and then showed you how to sign up for it. Additionally, we talked about using Discord servers to locate free Chegg answers. Finally, we discussed using search engines to find the solutions.
We hope the blog today helped you understand how to receive a free trial and some free answers. Please let us know in the comment area below whether these tips were successful for you.
Frequently Asked Questions
1. Is it safe to use Chegg?
Chegg is a legitimate website; thus, using it is absolutely safe. However, we advise you to use the app wisely because, after all, you are responsible for your own safety.
2. Can I cancel my Chegg subscription during my four week trial period?
Yes, Chegg makes it very simple to end your subscription at any moment before the free trial period expires. Users of the platform are assured that there are no cancellation fees.