Almost everyone has access to a smartphone these days. While many phones come with applications that are pre-installed, there are many applications that you can download as per your preference.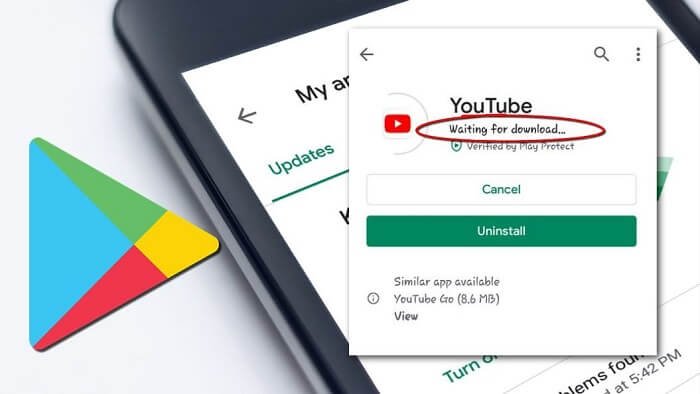 Whenever you want an app on your android phone, Google Play Store is the most trusted place to go. It is because it is the marketplace for all apps. Google Play Store is supported on all Android phones, making it the biggest hotspot for downloading all your favorite applications on your phone.
Unfortunately, sometimes it fails to update or install on your phone. It shows the 'waiting for download' error and remains stuck on it. While you are waiting for your application to download, many users have reported that they face this error frequently.
However, you are not alone! Many people face this issue due to various reasons. This may be due to poor internet connection, glitches, lack of storage on your phone, or others. Fortunately, you don't have to stress out, as there are various ways to fix this error and download your favorite applications effortlessly!
In this article, we will show you how to fix such a Google Play Store stuck waiting for a download issue. All the methods mentioned below are tested by our experts, so you can rely on our expert suggestions to fix this error!
With that, let's get into the details below!
Method to Fix Google Play Issue For Download
Sometimes, we get this error of downloading pending or unable to download from Play Store issue. All the tricks mentioned below will work for the issues. Let's check them below!
Restart Your Smartphone
If you see "Google Store waiting for download, you will have to wait for a while. To remove the message, you should restart your phone or tablet. After you restart your phone, the error message will be removed from the screen. Next, you can open Google Play Store and resume your pending downloads. Many times, this small trick shows excellent results without getting into complex settings. Sometimes, the issue does not go away, and the error message keeps showing on your phone's screen. No need to worry as there are other tricks to resolve the issue.
Internet Connectivity
Internet connectivity is one such reason why the error message "Google Play Store waiting for download" shows up. Check if your data connection is working correctly or not. You can check by opening a website on your preferred browser and see if the internet connectivity is working or not. Maybe if the data connection or wifi is not working and that is the reason why the error message is showing on Play Store. If you struggle to update or download apps, restarting your internet connectivity might help.
Check Storage
Do you have enough storage on your smartphone to download or update the application? You can check that by clicking on your phone settings and scrolling to the Storage section. If your phone does not have enough storage, remove unnecessary applications to free-up space on your device. You should also check the storage on your memory card if you have one. If the problem persists, clear it from your phone and then download the application again.
Check the Time and Date of Your Phone
Sometimes, the incorrect date and time on your phone can show the error message on Google Play Store. Although most phones nowadays automatically update their date and time with the help of internet connectivity. You must correct the date and time on your phone to fix it.
Here's how you can correct the date and time of your phone.
Step 1: Open your device settings and go to the system.
Step 2: Click on date and time and enable the toggle next to the automatic date and time. If it is turned on already, turn it off and on again.
Step 3: Restart your device and try to download the applications from Play Store.
Disable Auto-Update
Google Play Store has the option to update your application automatically. The option is suitable for keeping the applications of your phone to stay updated. But sometimes, it may create a few complications. If the automatic update is going on, you will face difficulty when downloading a new application on Google Play Store.
Due to this, you can encounter the download pending error. Therefore, you can turn off the automatic update feature while installing a new application on your device.
Clear Cookies and Cache
The internet always accesses your device, and that is why cookies and cache files accumulate. You should clean those files occasionally to keep your phone in a performing state. You will need a good phone cleaning application. Once you remove the cache files, the pending error will go away.
Wrapping up
We have become highly impatient these days. After all, why wouldn't we be in this 5G era? No one wants to wait for minutes to get their favorite application on their phone. When you are waiting to download the application, you may see the 'waiting for download' error. Even if you wait for a few minutes, the error won't go away.
Fortunately, you can easily fix this issue and enjoy a hassle-free experience on your phone. Irrespective of the Android model you use, the methods mentioned above will work for you. So, the next time you face this error, you can rely on our methods mentioned in this article.
So, what are you waiting for? Go ahead and enjoy your favorite app right away!
Frequently Asked Questions
1. Why is my download in Playstore pending but not download?
One of the main reasons why your download is at a pending state is maybe because there are other applications running on the device. To fix that, all you need to do is disable the installation and download the application again.
2. What should I do if a download application shows an error message?
There are several tricks to recover the error message showing on Google Play Store. You can check by restarting your phone, data connectivity, and turning off the auto-update application and storage.
3. Why is Google Play Store waiting for download issues to occur frequently?
The issue is common and happens to a lot of Android users. The reason may be that your storage may be full or there is a glitch. You can try the methods we have mentioned above to fix the issue.