Two-dimensional barcodes called QR (Quick Response) codes use square patterns of black and white squares or dots to store data in a square format. Denso Wave, a Japanese corporation, created them in 1994, and since then, they have been widely used for storing and exchanging data like website URLs, product specifications, contact details, and more.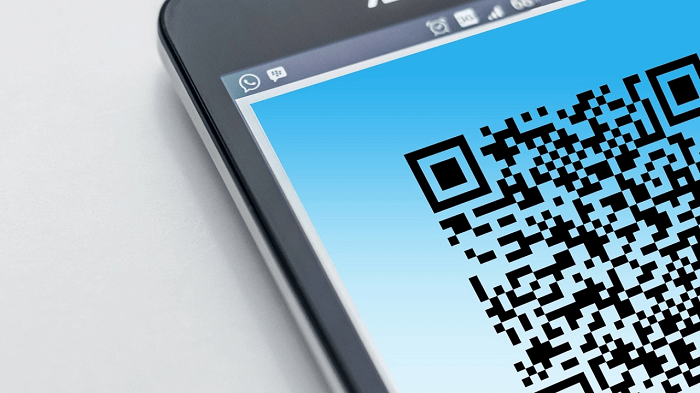 A smartphone camera and a free QR code reader app, both available from app stores, can be used to scan QR codes. The program reads the QR code pattern when scanned and decodes the data it contains. This eliminates the need for the user to manually search for information or type in lengthy URLs to swiftly and simply access the information.
Businesses can utilize QR codes to market their goods and services by creating them utilizing free web tools. A merchant might design a QR code that leads to a special offer or promotion, while a restaurant might develop a QR code that links to their menu. There are countless possibilities, and QR codes have recently gained popularity as a marketing tool.
Have you ever been in a situation where you had to scan a QR code in your phone without using another device? If your answer to this question was yes, then this article is where you can finally end your search. Sit tight with us till the end of this article, and we will show you how to scan a QR code inside your phone without using another device.
Let's break this process into a detailed series of methods and steps.
Can you Scan a QR without using another phone?
Scanning a QR code on your phone is fairly simple without requiring another phone. Several contemporary smartphones come equipped with QR code readers directly accessible from the camera app. Simply activate the camera app on your phone and point it at the QR code to use this feature. If the code is recognized, a notification should appear on your screen, asking you to click the link or access the inside data.
You can download a QR code scanner app from your phone's app store if your phone doesn't already come with one or if you prefer to utilize one. It's crucial to conduct some research and select a QR code scanner app that works effectively for you because many free and paid options are available. Simply open the app after installation, then point your phone's camera at the QR code. You may quickly and simply retrieve the material since the app will understand the pattern of the code and comprehend the data placed inside.
Using the QR code scanner built into your phone rather than a different phone is a quick and practical way to access material and information on the road. Today's smartphones come equipped with built-in scanners and QR code scanner apps, making it simpler than ever to utilize this innovative technology.
Steps to Scan QR Code In Your Phone Without Using Another Device
Via Camera
With the use of your smartphone's built-in camera and a few easy steps, you can easily scan a QR code within your phone without using another phone.
Open up the Google lens app on your smartphone.
The lens app on most modern smartphones has a QR code scanner built in. Ensure the camera is in the usual photo mode after opening the app.
Select the image
Select the gallery option from the bottom right corner and click on the image you wish to scan. Making sure that it is in the middle of the image. The camera should detect the code, automatically concentrating on it.
Await the code to be scanned.
When the device detects a QR code in the image, it will immediately scan it and decode the data it contains. Keep your phone steady and be patient; this could take a few seconds.
Get the knowledge
Your phone will normally show a notification or a pop-up message after the QR code has been read, allowing you to access the data. Depending on the kind of information, this might be a website link, product description, or contact information.
Via Third-Party Apps
Launch the Google Play Store application.
Usually, the Play Store symbol can be found in your smartphone's app drawer or home screen. To launch the app, tap the icon.
Lookup a QR scanner app
When you see the search box at the top of the screen, type "QR scanner" and hit Enter. A list of QR scanner apps for download will appear.
Choose an app
Go through the list of apps and select one that appeals to you. Before downloading, read the app's reviews and look up its rating. Once you've decided on an app, click the "Install" option to start the download. Your phone will download the app without your intervention.
Launch the app by tapping the "Open" button when installed.
Provide permission
The program may ask for access to your camera the first time you launch it. To allow the app to utilize your camera, tap "Allow."
Scan the QR code
Select the gallery option from the bottom right corner and click on the image you wish to scan. Scan the QR and wait for the corresponding app to detect it. The information contained in the code will be automatically interpreted by the app and shown on your screen.
Access the information
Based on the kind of data contained in the QR code, you could find a website, details about a product, or contact information. To access the information, adhere to the on-screen instructions.
FAQs
1. What is a QR code scanner?
You'll need a smartphone with a built-in QR code scanner or a QR scanner app to scan a QR code. Point your camera toward the code after starting the program. The software will scan the code and decipher the data it contains.
2. What kinds of data can be kept in a QR code?
Many forms of information, such as website addresses, phone numbers, descriptions of goods and services, event information, and more, can be stored in QR codes. Certain QR codes might also include encrypted data, such as payment or login credentials.
3. How safe are QR codes?
Since they can be exploited to steer consumers to harmful websites or phishing scams, QR codes are not intrinsically safe. To reduce the risk of fraud or identity theft, it's critical to exercise caution while scanning QR codes from unfamiliar sources and to utilize trusted QR scanner software.
Wrapping Up!
Nowadays, QR codes have become more widely used as a marketing strategy since they are a quick and simple way to communicate information and provide quick access to material.
On-the-go material and information access are made simple and practical using a smartphone app that scans QR codes. Use third-party apps to scan and decode QR codes. Open the Google Play Store app, start looking for a QR scanner app, select it for installation, provide access, scan the QR code, and extract the desired data.
As promised, we have mentioned all the reliable methods that help you to scan a QR code in your phone without using another device. So, what are you waiting for? Try the methods mentioned above and scan the QR inside your phone!
We hope this article was helpful in understanding how to scan a QR code in your phone without using another device. If you cannot find anything, let us know in the comment section below. We will help you find the right solution!