Over the years, a significant emphasis is put on the education of everyone. When you want to enter into big corporations, you are asked about your educational background. Moreover, educational background plays a vital role in your career.
Education and career are the most critical factors in everyone's lives. To be educated and well-versed in career objectives, one must seek admission to an educational institute. Admission to school or college can be a crucial and tedious task.
Admission to any educational institute requires an application sent to the authorities of the school or college one wants to apply for. Such applications and letters related to admission can range into three types: narrative, analytical, and technical.
Writing an application for getting admission into your dream school can be tricky. Many people don't know The importance of having a good application for admission. If your application is presented correctly, it increases the chances of being selected, as your admission letter will be your ticket to enter the school.
In this article, we are going to cover all the information about applying for admission to school, including the different types. Furthermore, we will also provide reliable tips to help you write the best school admission request letter.
So, let's get into the details below!
Different Types of Admission Request Letter for School
Before we go ahead and help you in writing your school admission request letter, it is vital to understand the different types. Having an understanding of various types of letters will help you understand how to write the perfect letter accordingly. Let's take a look at the three different types of admission request letters below!
Narrative School Admission Letter
Narrative school admission letters effectively describe the storytelling's beginning, middle, and end. The purpose of a narrative admission letter is to reflect a story properly. You should avoid using words such as dream, passion, always wanted to, etc., as they can affect the quality of the letter.
Analytical Admission Letter
There might be instances where one will feel obligated to prove why they are an excellent fit for the educational institute. In such cases, an analytical admission letter will be most helpful. One can analyze their skills and qualities and accordingly reflect the same in the analytical admission letter.
Technical Admission Letter
A technical admission letter focuses more on the knowledge and skills of a specific subject. The objective of a technical admission letter is to display hard and soft skills and knowledge of a particular topic in a way that convinces the authorities of the school or college from a technical standpoint.
Practical Tips For Drafting an Application For School Admission
Seeking admission into a well-known school or college can be challenging, given the competition nowadays. To secure admission into a school or college, you must write an application letter professionally.
The application letter has a significant role in your child's career. Below are some tips to help you draft and write a professional application letter that can increase the odds of admission to a school or college.
The letter must be professional, concise, clear, and straightforward.
You must describe the letter in a brief manner stating why you or your child wants to attend a particular educational institute.
It will also be beneficial if you include any particular reference or connection to the institute(Examples of such references or links can range from family, friends, or relatives who graduated from the same institute).
One should highlight their skills, academic interests or objectives, and career goals.
Contact details or information such as the mobile number or email ID must be mentioned in the application letter.
You can also make use of sample admission request letters, as they can help you draft different types of letters and allow you to adjust them according to your needs.
Sample 1: Application Letter for School Admission
To,
The Principal,
[School Name],
[Address],
[Date].
Subject: Application request letter for school admission of my child
Dear Sir/Ma'am,
With the greatest regard, I would really like to state that I want to get my child _ [Write Your Child Name] admitted to your school. I am sure he will get an excellent educational experience under the guidance and supervision of skilled and knowledgeable faculty members.
Please grant him the opportunity to take the assessment and interview for admission. Please call me at my mobile number if you have any inquiries.
Thank you in advance!
Sincerely Yours,
[Guardian's Name],
[Mobile No],
[Email ID].
Sample 2: Application Letter for School Admission
To,
The Headmaster,
[Institute Name],
[Institute Address],
[Date].
Subject – Application letter for school admission in nursery class.
Dear Sir/Madam,
With respect, my name is [Your Name], and my son or daughter, who is [Write Your Child Name] and is __ [Mention Your Son's Age] years old, is attempting to apply to your school for a place in the nursery.
I have selected your institute out of numerous possibilities since I have reviewed it with friends and found that your institute has well-qualified lecturers that will help in his future carrier.
I am attaching my son/report daughter's card with the application. I shall be committed if you can provide admittance to my son in your school.
Thank you.
Yours sincerely,
[Your Name],
[Your Mobile No],
[Address].
Request Letter Template for Admission to School
Here are a few templates that you can go through to understand how to write a good admission request letter!
Template 1: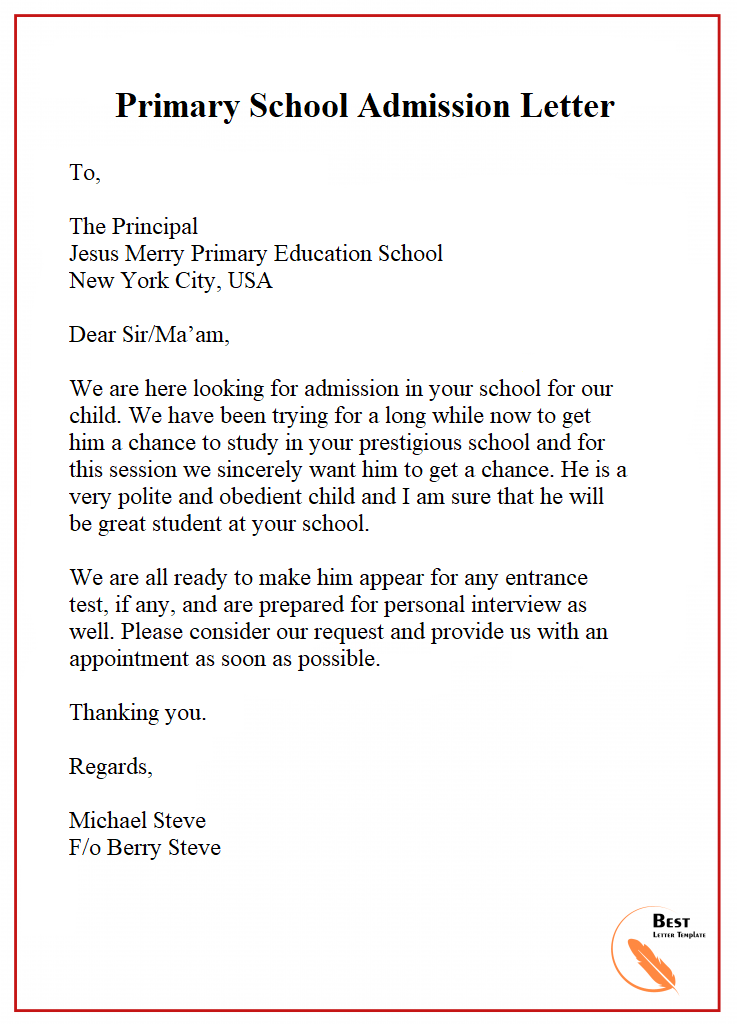 Template 2: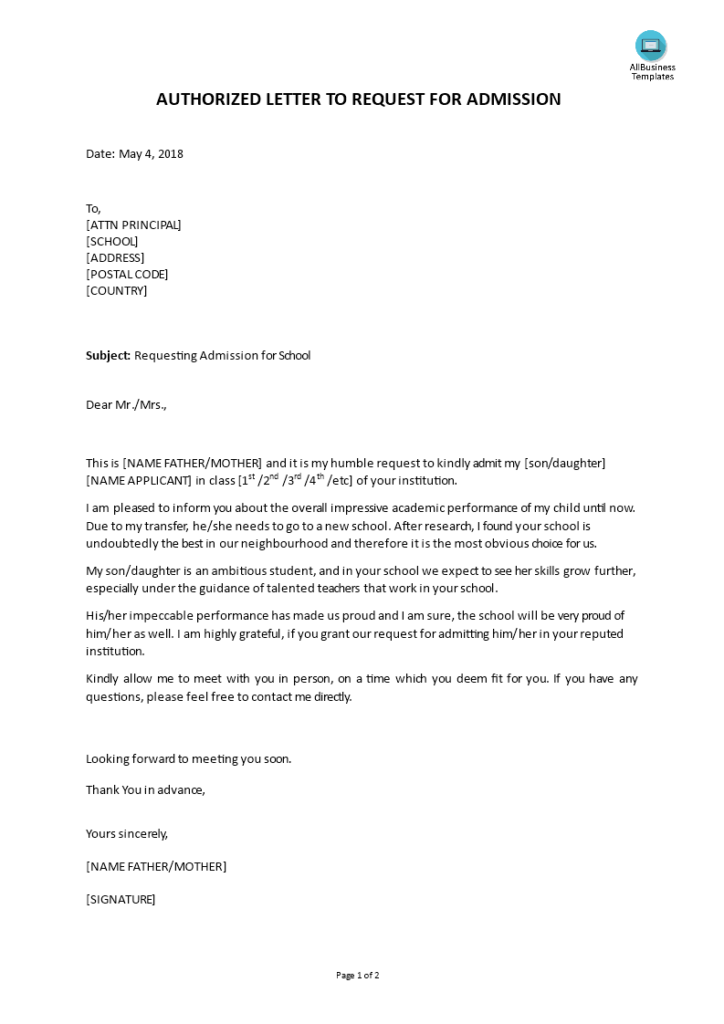 Wrapping up
Getting your child into your dream school takes more than just showing up for the interview and paying the fee. A good admission request letter is required by most schools. You must submit the letter within the given deadline by the school to ensure your child gets admission.
However, writing a good admission letter can be challenging for parents, and hiring someone else for the same can add extra expenses to your pocket. Fortunately, you no longer have to worry about it as you can simply use our templates and samples to write your admission letter.
All the templates and samples above will help you write your letter perfectly. Ensure that you edit and fill up your personal details properly before submitting your request letter.
With that, we hope our article gave you a glimpse of writing the best application for admission to the school for your child. Go ahead and use the tips mentioned above to secure a seat for your child!
Frequently Asked Questions
1. Should I hire a career counselor before the admission process?
It entirely depends on you if you want to hire a career counselor. The prime benefit of hiring a career counselor is often related to professionalism and guidance throughout the admission process. It could also help you in exploring your career interests and options.
2. Can I find free templates for admission letters?
Yes. You can find several free templates for admission letters over the internet. You can also create one by following the tips mentioned in this article.
3. Should I mention my address in the application letter?
Yes. It will be advisable to mention your address and contact details in the application letter as it can help the authorities to contact you.
4. What is an essential tip about an application for admission?
You must always ensure that your application for admission is grammatically accurate, formal, and professional at all times.