There can be several reasons why you want to change your voice during a phone call. It can be performing a simple prank on your friends or family and knowing their reaction. You may also want to change your voice to female and call your partner for fun.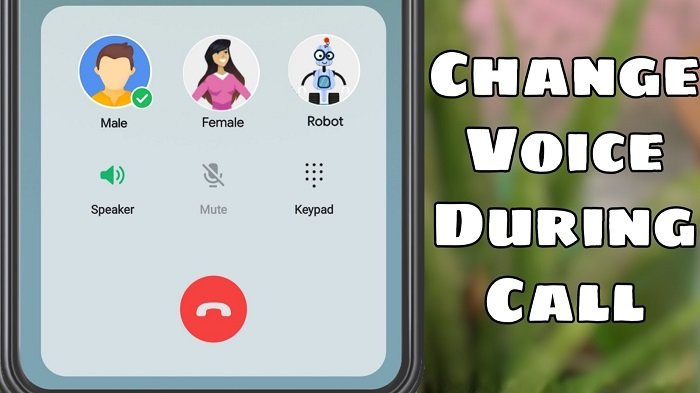 Changing your male voice to female for a prank seems like a cool idea, but can you really do it? Well, the answer is YES! You can!
Many of us want to prank our friends for fun. Let's say you are calling an old friend after months, and you want it to be fun. What would be more fun than changing your voice and speaking to them, so they cannot recognize you? Well, in such a case, you might need reliable methods that will help you with voice changing.
After all, not everyone is born with the talent of having multiple voices or coming up with different voices than their existing ones. We know you must have at least tried once to change your voice to prank someone, but it may have hardly worked. Thanks to the advancement of technology, it is now easily possible to change your voice during a phone call with someone.
Note that whatever the cause is, the reason should be fun. You should not just change your voice while talking to your teacher over a call and pretend that you are the guardian. Neither should you call and disturb other unknown people.
This guide will teach you how to change your voice to a female voice. There are several applications in the market that might just work for you, but we will suggest to you the best ones in terms of privacy, use, and interface.
We will also discuss applications for both Android phones and iOS devices. With that, let's get started.
Methods to Change Your Male Voice to Female During a Phone Call
We have compiled a list of methods, including applications that will work the best as voice changers! So, let's get into all the different methods below.
1. Voice Changer Applications
Voice changer applications are pretty famous nowadays. One can change their voice from male to not just female, but also robotic, echo, alien, etc., sounds. They are fun applications to mess around with. One must have seen how game streamers change their voice live in their stream efficiently and talk to different other voices. Although they prefer using hardware rather than just an application, with the growing technology, voice changer software does not leave a chance to amaze us. We can imagine technology growing so fast.
There are apps available that change your voice when you record your voice. But there are also that can change your voice in real-time while you talk to someone over the phone without recording your voice earlier. One such application is the "Voice Changer – Voice Effects." You will get this application easily on PlayStore, and it is free software to use.
While using this application, it will change your male voice to female and vice-versa. Not only does it change your voice, but it is capable of translating the emotions from male to female voice. That is why it gives us a chance to have some real fun.
Once you open the application after downloading, modify your voice before and review how you like it to sound.
2. Text to Speech Sites
Applications may have some drawbacks while using, like voice glitches, or you might have an old smartphone that is not so capable of multitasking in the background. You will always stay on the beneficial side if you have new phones because old phones take time to input the voice, interpret it, modify it, and deliver from the output. This type of multitasking cannot be performed with an outdated smartphone.
Therefore, text-to-speech sites are advantageous if the application does not work correctly. Here's how you can do it.
Step 1: Open your chrome browser and search "Text-to-speech" on Google.
Step 2: You will find a lot of websites, but we will suggest you visit www.voicemaker.in.
Step 3: Once you enter the website, you will see a text box. Type the conversation you want to have with the person and then change it to a suitable voice.
Step 4: Call the person and play the audio clips on the speaker on another device.
Note: You will need to have two different or the same devices in order to use the method. You can use a Laptop or a smartphone to change the voice, while you will need a different phone to call the person.
3. Digital Hardware Machines
There are various machines available for professional work to change voice in real-time. You can easily get them on any shopping website. It may cost some money, but the result will be incredible compared to software. When you buy the device, you can connect it to your smartphone while calling and change your voice accordingly without the fear of voice glitches that happen in voice changer applications.
However, if you do not want to invest your precious in such a device, you can use the application software on your phone and have fun.
4. Non-digital Methods
If you are a DIY person, don't worry! We have got your back with that too!
Most of us have heard of helium gas that changes your voice. If you haven't, let us explain. You can change your voice in real-time without using software or devices. But it will work for a short period of time, which is 5-10 seconds. If you want to use this method, all you need to do is inhale helium gas and speak. You can do it by taking a balloon filled with helium gas and inhaling it. Your voice will change immediately when you inhale helium gas. Then you can talk over the phone with your changed voice for a limited time.
Wrapping up
So, that's a wrap to all our working methods of how you can change the voice from male to female during a call. Although all the methods work effectively, note that we do not encourage any negative activity through our content. We want our readers to use these methods for fun purposes only!
So, what are you waiting for? Go ahead and choose the reliable method to prank your friends.
We hope the methods mentioned above were helpful. Over to you. Which method worked for you? Let us know in the comment section below!
Frequently Asked Questions
1. How do I change my voice in real-time while talking on the phone?
You can change your voice in real-time with the help of voice changer applications available in the Playstore and iOS store. The applications are reliable, and most of them are free to use. Some of the most used applications are Girls Voice Changer, VoiceFX, Sper Voice Editor, etc.
2. Is it illegal to change your voice and speak on phone calls?
If you are using the application for fun, it is okay. But once you start using it for professional work, you may face several consequences. People can complain against you for using voice changer applications. Therefore, you should use such applications safely, effectively, and in a fun way.
Also Read: How to View Old Stories On Facebook