If you've recently blocked someone on Instagram, you probably may feel relieved. Whether you blocked someone to maintain your privacy, create a safe space, or cut ties with a negative influence, it's a good decision.
However, one burning question on your mind led you here: Will blocking someone on Instagram delete your hard-earned likes?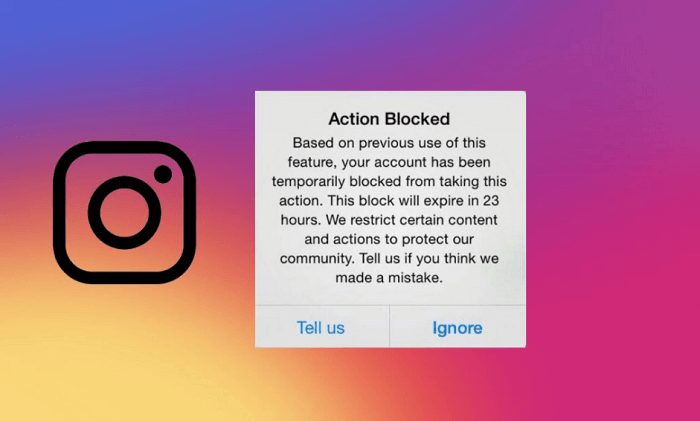 In this blog, we're diving deep into everything related to the block function on Instagram to give you a clear understanding of how it impacts your account and interactions. We'll explore the extent of accessibility that the blocked user has to your account and the status of those likes and comments.
We'll also shed light on other ways beyond blocking to help you maintain a more private space on social media. So, if you're ready, let's dive in and discover the answers you've been seeking.
What happens when you block someone on Instagram?
Sometimes, hitting the block button can be a tempting solution to regain control over your digital space. When you block someone on Instagram, a virtual barrier is established; hence, this can be a source of relief, allowing you to distance yourself from unwanted attention, harassment, or toxic relationships.
But what happens to the blocked user? Do they vanish into thin air?
When you block someone on Instagram, you restrict them from viewing and interacting with your account and you on the given platform.
Typically, they can't find your account through a simple search and are unable to view your posts, reels, stories, or any of your Instagram activity. Moreover, blocking works the same way regardless of your account type, be it public or private.
If I block someone on Instagram, will it remove my likes?
Yes, if you block someone on Instagram, all their likes will be automatically removed
from the content you've posted so far. This, in turn, also removes all your posts from the liked section of the blocked user's account.
They'll no longer be able to access the content in any other way. Before you ask, we know what your next question is: "Can I retrieve the likes as soon as I unblock them?" Well, let's see
When I remove the block, can I get my likes back?
The straight answer is no. You can't regain your likes when you unblock the user. As sorry as we are to break that to you, unblocking doesn't bring your likes or even comments back; gone is gone unless the person likes all your posts over again. If you're rethinking your decision, here is a way to review all the blocked users from your Instagram account.
How do I view the list of people I've blocked?
If blocking is your go-to way to regain control over social media, you might have curated yourself a long block list. Whether you're searching for an Instagram user you blocked long before, or couldn't find an Instagram page in search results; it's time to dust off your blocked user's account. We laid out step-by-step instructions covering all the teeny-tiny details to help you find that block list.
Step 1: Unlock your Android or iPhone, head to the menu tab, and open Instagram.
Step 2: You'll land on the home page, aka the feed. Now see the bottom-right corner of the screen. You'll find your profile icon; tap on it.
Step 3: Now that you're in your profile tab, tap on the hamburger icon located at the top-right corner of the screen.
Step 4: You'll see a list of options slide up from the page. You must select the settings and privacy option, which is usually the first in the list.
Step 5: In the settings and privacy tab, swipe up a bit until you reach the Who Can See Your Content section. Under that category, you'll see the blocked option; tap on it.
You can now view all your blocked contacts under this tab. If you wish to unblock any of the users, you just need to tap on the unblock option placed parallel to their profile name. A confirmation box will pop up; you must confirm the decision once again to lift the restriction.
Are my comments and likes still visible to people I block on Instagram?
On the flip side, if you block any user, you might also wonder if they can view all the likes and comments you leave on other profiles. Yes! Instagram says that the blocked account can still view your likes and comments on public or mutual friends' accounts.
When we tried this ourselves, we found that blocked users can't view the comment you left on a public or mutual friend account. You can experiment with this yourself, too, if you have multiple Instagram accounts. However, this leads to the next query, i.e., what about the group messages? Will you be able to receive messages from the blocked person if you're in a mutual group with them?
What happens to group messages when you block someone on Instagram?
If you're in the same group as the blocked person, you'll be prompted to choose to stay or exit from the group. If you decide to stay, you'll be able to receive messages from the blocked person in the group. So, if you don't need any ties with the user, either you need to leave the group, or they have to.
In the case of direct messages, you can either report and delete the chat as soon as you block someone, or you can save the previous chats but still restrict the user from sending you DMs in the future.
Suppose you're unaware that blocking isn't the only way to cut off people from your network; other good options like unfollowing and restricting exist. You need to be aware of these options, as they can immensely come in handy as you expand your horizons on the platform.
Blocking vs. Unfollowing: Why you should consider unfollowing over blocking
When it comes to dealing with hateful trolls or unwanted followers, blocking is your ultimate weapon. By blocking someone on Instagram, you're literally severing the connection. However, Instagram is a vast platform with highly diverse people, so blocking can be tedious and unnecessary at times. A close alternative to it is unfollowing.
Unfollowing is a more gentle approach to reclaiming control over your Instagram feed. When you unfollow someone, you simply remove their posts from your feed. It's like avoiding a conversation without completely cutting ties. You won't see their content, but they can still see yours and any likes or comments you leave on public accounts. There is no place for awkward silence when you see them in person. You don't have to answer questions like, "Why did you block me?"
Above all, if your beliefs, values, or vibe do not match those of a specific person, you can easily unfollow them. The best part? They won't be notified that you unfollowed them. Moreover, they can still reach out to you through DMs or comments whenever there is an absolute necessity. This unfollow button comes in handy whenever you want to ignore a person but not completely block them across channels. So, use it more often than the block button!
What is the difference between blocking and restricting someone on Instagram?
What if you have a different kind of annoyance? Maybe it's your nosy coworker or an overbearing relative who you don't want to block outright but wish to keep at a distance. These are the people you wish to ignore, but you just can't. So, how do you handle that?
Enter the hack of restricting. By selecting restrict, you're establishing a subtle form of control. The restricted individual's comments on your posts will only be visible to them and you, sparing you from their unwanted attention. Their DMs will be shifted to the message request folder, allowing you to review and decide whether to engage or ignore them without their knowledge.
Pretty cool, isn't it? If this is your first time hearing about this, here comes the classic step-by-step instruction.
Step 1: Open Instagram and log in to your account if needed.
Step 2: In the bottom menu, you'll see a list of options; choose the search icon, which is denoted by a magnifying glass icon.
Step 3: Now, in the search bar, enter the username of the account you want to restrict. Tap on their profile from the search results.
Step 4: On their profile page, you'll find a three horizontal dots icon placed in the top right corner of the screen; tap on them.
Step 5: You'll see a list of options pop up from the bottom of the screen; there, you'll find the restrict option; tap on it to restrict the account from specific activities.
If you're using this feature for the first time, Instagram will explain what it is and how it will be helpful to you. So, when your restricted users comment, you can decide who sees it. As awesome as it sounds, this function is undoubtedly a social media mental-health protector. What do you think?
Frequently asked questions
1. What happens if I block someone on Instagram after liking a post?
When you block someone after liking their posts, your likes will be removed from the specific post, and the user may not be able to view your profile.
2. Will you still be in someone's likes if you block them?
No, when you block someone, your likes and comments will also be removed.
3. Can I block someone from seeing my likes?
Yes, you just need to tap on their profile picture to head to their profile page; tap on the three dots icon and choose the block option to completely block the user.
Over to you
When it comes to blocking someone on Instagram, it's important to grasp the complete picture. We delved into what happens when you block someone on Instagram and how it affects their access to your account.
We also addressed the burning question: "If I block someone on Instagram, will it remove my likes?" Furthermore, we shed light on whether the likes and comments from the person you blocked will disappear from your content.
That's a lot of blocking and Instagram information. So, why not do something with that now?