Presently, receiving gift cards for any holiday season is popular, and we are not mad about it. We are grateful for gifts of all kinds, as we should be, but when we receive something we really need or want, we are overjoyed! After all, it is better to spend the money you were given than to receive items of clothing that don't even fit your style!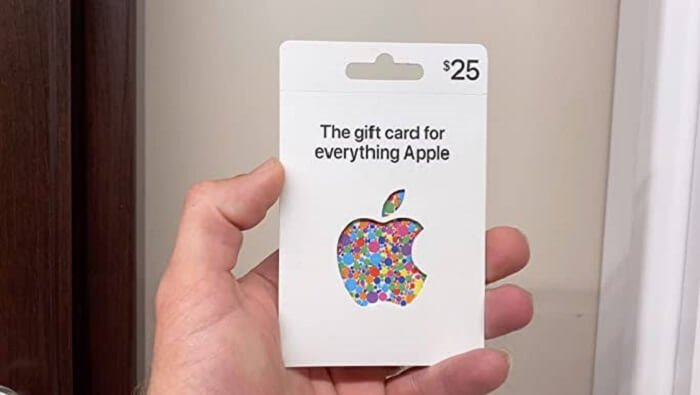 Moreover, we also follow this pattern and frequently give individuals gift cards as presents! Have you ever received one of those gift cards with the white-colored Apple logo in the middle?
They are, without a doubt, one of the finest holiday gifts for anyone! These virtual or physical gift cards come in a variety of versions, and you can customize the value of the cards by adding whatever amount you choose.
How about we ask you how much money is left on the apple gift card your elder sister gave you? Do you know how to check the amount on an Apple gift card without using it?
Are you excited to learn more about this particular topic? Well, we will teach you how to check it without the need to redeem it! Just follow along until the end to know all about it.
Checking Apple gift card balance without redeeming it – A step-by-step guide
Did you ever find an old Apple gift card when cleaning out your locker? First of all, wow!
You must feel like you're on top of the world, but hold on! Do you know whether there is any remaining balance, or is it just empty and cashless as it sits there?
Well, we can find it out without needing to redeem it using Apple devices and other ways. So, if you are curious to know, you should follow us attentively.
iPhone and iPad users
Most of us are fond of using iPhones and iPad more than Macbooks for multiple reasons in order to check our gift card balance. To begin, they are simply convenient to use, right?
This section is for you if you want to check your Apple gift card balance with your iPhone or iPad. Please note that the steps are easy, so be quick and grab your device and follow along.
Steps to use iPhone/iPad to check Apple gift card balance without redeeming:
Step 1: To begin, you must go ahead and access the App store on your device.
Step 2: Do you see your profile icon located in the upper right section of this page? Please click on it to proceed.
Step 3: Enter your Apple ID credentials and sign in to the app.
You can successfully see your Apple gift card balance right under your Apple ID.
Check it online on Apple's Website
Do you want to check the amount on a gift card you received from someone? Apple maintains a dedicated website for gift card balances.
We have to assure you that this website is incredibly helpful if you want to check the balance on your Apple gift card. You should enter the Apple Gift Card Balance Website and run the search.
Are you still confused about the steps? Don't be stressed because we will certainly help you out.
Allow us to help you with the step guide down below. You should follow it carefully to not skip out on these steps.
Steps to check gift card balance online:
Step 1: Go to the link on your preferred browser.
Step 2: Do you see an option that reads: See the balance of your Apple Gift Card? Please click on it to proceed.
Step 3: You will be directed to the next page upon following the previous step. You must enter your Apple ID in this section to sign in to the Apple Store.
Step 4: Tap on the arrow next to your Apple ID.
Step 5: You must now enter your password and press the arrow icon again.
You can check the Remember me box so that your Apple ID and password remain saved whenever you wish to check your Apple gift card balance.
Step 6: You will be instructed to enter your gift card information. So, make sure to enter the correct Pin and hit the check balance option next.
You can use the call approach
If you are here reading this section, perhaps the methods above have failed to work! Don't sweat; in that case, we've got your back. What if we told you that all you had to do was call a number to find out the current balance of your Apple gift card?
Yes, this is indeed possible, and you only need to dial 1-800-692-7753. So, dial the number and follow the instructions to see if the method works!
Wrapping up
With this, we will end our discussion for today. Let us now revisit the important points we have discussed in the blog, shall we?
Apple's customer base appears to be expanding with each new product the company releases, and it never goes out of style. There must be more questions as there are more users, right?
This is why we addressed one of the often-asked issues about Apple gift cards. We addressed how to check Apple gift card balance without redeeming.
We have explained a few methods to you in detail. You can check the balance with an iPhone or iPad. Next, we discussed checking it online, and finally, we gave you a calling number to get your gift card balance.
Did you like the answers in our blog today? Let us know about your feedback down below. You can follow us for more such how-to guides and the latest blogs on Apple.
Frequently Asked Questions
1. Why can't I see any balance on my Apple gift card?
You have no remaining balance if you are unable to access any information about your Apple gift card's balance. Someone could have already used your gift card if you don't remember using it. Please be aware that if you recently bought the card, you may simply return to the store (online or physical) where you made the purchase and complain to them.
2. Where should I find the PIN of my Apple gift card?
Your PIN placement depends on the type of card you are talking about. You should look near the bottom on the back of the card if you have a physical gift card. You might need to scrape the silver part to see it. However, the PIN is often included in the email you get if you buy the card online.
Also Read: How to Transfer an Amazon Gift Card Balance to a Bank Account: Is It Possible?