Have you ever tried swapping your current phone for a new one on an online store? The IMEI number must have been checked, right?
Every mobile device has a distinct IMEI, or International Mobile Equipment Identity, which identifies the manufacturer's model, brand, and location. There are various uses for this 15-digit number, so it is important to be aware of it.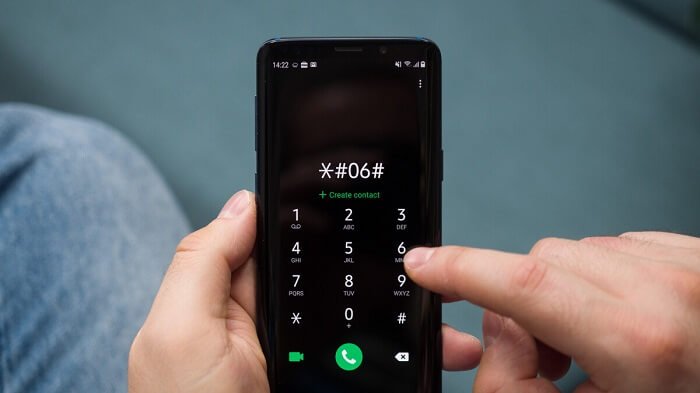 You will have two IMEI numbers if your smartphone has two sim slots. In today's technologically advanced society, mobile devices are indispensable. However, with these necessities comes a striking rise in mobile phone theft.
Well, obviously, your IMEI becomes much more important if you suffer quite a setback when your phone is lost or stolen. Contacting your network provider will allow you to halt unwanted access to your phone quickly. The phone will be blocked by your network provider on their network and other networks as well.
What happens, though, if you lose your phone and need to locate the IMEI number? Do you think that's possible, and if so, how should we go with this process?
We will help you find the answers if you are asking these same questions yourself. So, be patient and read along with us as we search for your answers in today's blog.
Can you find the IMEI number of the lost or stolen mobile phone?
We all know it is a breeze to locate the IMEI number if we have our phones in our hands, right? Imagine that you still want to trace your IMEI number despite not having your phone with you! Do you think it will be possible?
We wouldn't pretend that it would be very simple for you if your phone were stolen or misplaced, though. However, it is not a shot in the dark, either!
We also have a few cards under our sleeves that will help you big time. So, let's explore them in the segments below, one at a time.
Find and check the invoice for your phone
Losing their phone is one of the worst things that may happen to a person today. Furthermore, receiving such a punch is nothing but sheer agony. It may be a silly idea to be able to monitor your IMEI number from the lost phone, but you can do so.
Please respond to this one query: Have you kept the phone's invoice? Well, you will receive the bill or invoice, along with your purchase from the seller.
This invoice contains the most crucial information you require at this time, namely your IMEI number. So, if you have it, go through it to get your IMEI number.
Do you have the original phone package?
Do you recollect where you kept the original package that your phone was shipped in? Well, if you recently purchased your phone, it's possible that you already have the box. However, we can understand if you don't have it if we're talking about an older phone.
But, if you already have the box, there is good news for you. Bring that packaging, then search for a sticker with several barcodes. Your mobile phone's IMEI number is printed on that sticker.
This 15-digit number is printed on the box of almost every original package of the devices. So, you should keep these packages.
You might be asking why an IMEI is included in your phone package. Well, it's there to verify the device's authenticity.
You can compare the IMEI of the package and the one on the invoice. You have the right product with you if the two IMEIs match.
Take help from Google Dashboard
Do you have any previous Google dashboard experience? You can use it to manage your accounts for any service you utilize properly.
Do you realize the potential value of your Google Dashboard in this situation? In case you weren't aware, it logs all of the info on your Android device. Yes, the IMEI number is also included in it.
Let's see how our favorite Google dashboard can also assist us in this circumstance. You should follow the instructions we have outlined below carefully.
Step 1: On your Chrome web browser, enter Google Dashboard. You must sign in to it. But ensure that your Google ID is the one with which you have signed in on your lost phone.
Step 2: Do you see the Download your data option? Tap on it.
Step 3: You will land on the Google Takeout page. There is an option labeled Select data to include under Create a new export category.
Tap on Deselect all and only mark the Android device configuration service option.
Step 4: Move down to the end of the page and tap on the Next step.
Step 5: There is an option to Choose file type, frequency and destination on this new page.
Step 6: Tap on Send download link via email for the Destination option.
Step 7: If the Frequency is set to Export once by default, leave it that way and proceed ahead. Additionally, don't make changes in your File type too.
Step 8: There is a Create export option present in the lower right corner; tap on it.
Step 9: A Manage your exports page will appear in front of you. Tap on the Download option.
To continue, you might have to verify your identity, so enter your password.
Step 10: The file will be present in the zip format after the download is complete. So, extract it first.
Step 11: Under the Takeout option of the file, there is an option called Android Device Configuration Service, tap on it.
Step 12: Double tap on the field labeled Device. It would open in a web browser.
Step 13: Locate your IMEI under the Device and Account Identifiers option.
Find your device if you are an iPhone owner
If you own an iPhone, you must have your Apple ID credentials with you. Use it to sign in to Apple's official website.
But for this strategy to work, there must be one prerequisite. You must always have a macOS device with you that uses the same apple ID. You need it if you have two-factor authentication on your iPhone.
So, if you attempt to log in using the same Apple ID credentials, a 6-digit code will be issued to your lost iPhone. But how would you complete the authentication procedure if your phone is not there with you, right? Well, if you have a macOS working with the same ID, it probably won't require a passcode when you try to log in.
Navigate to the end of the page if your login attempt was successful. The list of your devices with the same Apple ID is available here.
Go to your iPhone and tap on it to reveal the IMEI number.
Wrapping up
This blog showed you how to find a lost or stolen mobile phone's IMEI number. We are aware that when it comes to tracing your devices, the IMEI becomes rather significant. It is still possible to locate your device's IMEI number even if it is not physically available.
We talked about a few ways that are useful when trying to locate these special numbers without your phone nearby. You can either look for the invoice or the original package of your phone.
You may also learn how to find it by entering your Google dashboard. In addition, we talked about how to find your IMEI if you have an iPhone.
We hope you can get your IMEI as quickly as possible to prevent any issues with your phone.
Frequently Asked Questions
1. Can I change the IMEI number for my phone?
No, you shouldn't change your IMEI number unless you want to go into difficulties. The IMEI assigned to each device is distinct, and tampering with it is prohibited.
2. Are IMEI numbers vulnerable to hacking?
Unfortunately, it is possible to hack IMEI numbers. Therefore, anyone who has access to your IMEI can hack your smartphone. They can severely interfere with your device and get access to sensitive details.