Being one of the most popular social media platforms, Snapchat offers many features that other platforms fail to provide. Not to mention, it was one of the first platforms that introduced the stories features, which Instagram and WhatsApp later followed.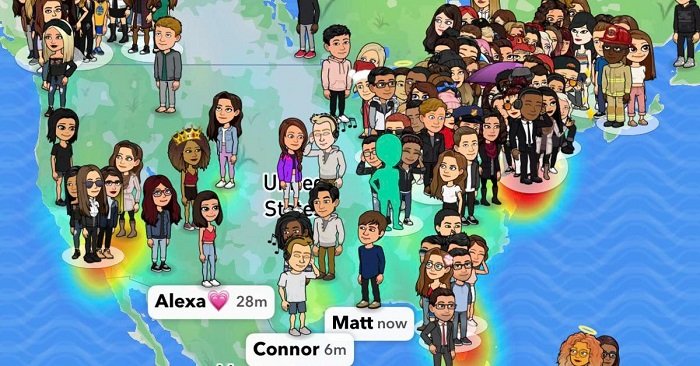 Snapchat keeps adding new features every now and then. One such feature that Snapchat introduced was the location. You can create your avatar using the Bitmoji application and keep your location visible. Your location freezes when you do not open the app. However, your location will be updated as soon as you open Snapchat with active internet connectivity.
Snapchat location usually looks like this on the Map.
However, you can also choose to keep your location private or open to a few people. For instance, if you want to keep your partner updated with your location, you can select only their username. This means other Snapchat friends won't be viewing your location except for the person you selected.
But, if you decide to keep it open for all your friends, they are more likely to check your location. One of the widely curious questions asked by people was, can you see who is checking your location on Snap Map?
Well, we know the curiosity to know who is stalking you through your location. Therefore, we decided to put your curiosity to ease with this post. In this article, we will be covering all the information about how you can see who is viewing your location on Snap Map.
With that, let's get into the details to find out more!
Can You See Who Checked Your Location on Snap Map?
Some of us have the habit of checking other users' locations on Snapchat when we open the application or see their snaps. Well, the good news is no one will know if you check about their location on Snapchat. No matter how many times you track their location status, the app will never notify them about it.
Earlier, this feature was present on Snapchat. The app is used to notify the user whenever you click on a person's Bitmoji to track their location. But, the feature has been removed now. At that time, people could enable the settings and receive notifications when someone checked their location status. A small eye button was present where the user could get a list of people that tracked their location status.
That option is no longer available now. Snapchat updated its version, and hence, Snapchat removed the feature. That said, you can know that nobody will know if someone tracks a user's location.
Finding Snaps on Snap Map
People can update stories on Snapchat. You can easily track the snaps that have been uploaded by users who are in a particular area currently.
You can do that easily by clicking on the Snap Map. If the snap map color is light blue, it means that only a few people have taken the snap in the particular area. If you see a red color shade, it means many people have posted photos in the location. You will commonly find the red areas where special events are organized, big hotels, bars, or crowded places.
Track the Location of Any Friend on Snapchat
One of the exciting features of Snapchat is that you can track the location of anyone you are friends with on the social app. You can track them if they are traveling in a car, shopping in big complexes, or enjoying yacht rides on vacations until they have turned on their Ghost Mode.
Besides, you can only track the location of those who have turned off the ghost mode on the application. Tracking someone's location is very easy. All you need to do is open the Snap map location just beside the left side of the chat button. You can click on their Bitmoji and view where their photos are from. They have uploaded a status if their Bitmoji appears on the Snap Map.
However, you do not have to worry about users getting access to the list of people viewing their location on Snapchat. No user can track who viewed their location. Even though the option was available earlier, it has been removed after the update.
That said, you can now track the location of any friend on Snapchat if they have not turned on their ghost mode. They will never know who tracked their location. One of the simple reasons why Snapchat removed this feature is to avoid the awkwardness people face when they are caught viewing someone's location.
Wrapping up
This comes as no surprise that Snapchat is currently ruling with its extraordinary features. One of the reasons behind the application's success is user privacy. Unlike other social media platforms, Snapchat likes to maintain transparency with its users by letting them know what is happening. Some of the examples include notifying the users about who took a screenshot of their story or snap, whether someone is screen recording them, the number of views, and more.
However, the snap map feature is trendy and used by millions of us. Unfortunately, Snapchat does not allow users to see who is checking their location. It is also worth mentioning that Snapchat doesn't force users to keep their location on. You have the authority to keep your location private. And if you are someone who is curious to know who is checking your location on the Snapchat Map, you would be disappointed to know that there is no way to reveal that.
After all, we consider this feature helpful as revealing who is viewing your location can be embarrassing. Suppose you are checking your crush's location every now and then, and if they get to know, it can create an embarrassing situation, and you do not want that to happen.
With that, we hope this article helped in answering all your questions about location on Snap Map. So, what is your take on Snapchat not allowing users to see who viewed their location on Snap Map? Let us know in the comment section below.
Frequently Asked Questions
1. Does Snapchat reveal if someone views a user's location?
No, Snapchat does not reveal who views your or someone's location. Also, there are no other ways by which one can find out if you tracked their location on Snap Map.
2. Can you fake your location on Snap Map?
There are several apps available on Google Play Store which can fake your location on Snapchat Map. All you need to do is download the application and run the application. After opening the application, turn on the fake location button, and your location will be changed. It works on other applications, too, like Whatsapp.
3. Can I see who checked my location on Snapchat?
Unfortunately, no. Snapchat respects user privacy and does not reveal who is viewing their location on Snap Map. So, there is no direct way to view it.
Also Read: How to Recover Deleted Snapchat Videos