The gaming world has transformed tremendously over the last few years. People are opting for gaming as their full-time passion, and it is safe to say, many people are making a living from gaming alone. It may sound surprising, but there are various top gamers in the world who successfully made millions by gaming alone.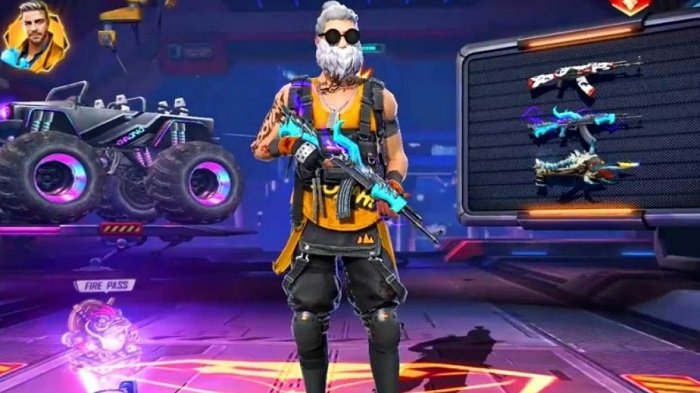 Doesn't that sound fascinating? Gone are those days when gaming was considered just for children. Pro Gamers throughout the world are leading the way and transforming the world into a completely different era with gaming.
One such popular game is Free Fire. Well, since you are here already, we do not have to go in detail about how excellent Free Fire is. The game has set the gamers' world on fire with its excellent interface. When it comes to Free Fire, everyone is picky about their name. You must be aware that you have to give yourself a unique identity on the platform, but with so many cool ideas, it may not be possible to name your avatar the way you want.
Keeping fancy names in the Free Fire game is one thing every player likes. It makes them feel like they are different from other players. However, getting such a fancy name is not an easy job. It is because you cannot give space, or Free Fire will not accept the font you have chosen, and sometimes the username you chose is unavailable.
Fancy and unique names become the identity of the player. It has now become a culture of calling the person by the game username ID. Many streamers on Twitch or YouTube now have their own name, which is linked directly to their game name.
Well, if you are wondering how to give space in your Free Fire name, this article will help you learn that! As you read this post ahead, we will list reliable ways to help you put space in your name.
So, are you excited to learn how you can do it? Let's get into the details right away!
Method to Give Space in Your Free Fire Name
Most of the time, Free Fire players can not give space between their game username, which makes it challenging to create a unique username. But it is possible by using unique 3164 characters known as "Hangul Filler," which most gamers do not know.
Mentioned below are the steps of adding space between characters in Free Fire using unique 3164 characters.
Step 1: Firstly, you have to copy from the Unique 3164 characters or hangul filler. You can easily get them by searching "Hangul Filler" on Google and clicking on any website.
Step 2: Copy the hangul filler characters once you get the perfect website.
Step 3: Once you copy the filler, open Free Fire and tap on the banner on the left.
Step 4: By clicking on the banner, your profile will open. You have to click on the icon beside the name badge.
Step 5: A dialogue box will open on the screen. You have to tap on the icon next to your existing name.
Step 6: A popup box will appear asking you to enter the name that will display. You have to enter the required name and past the Hangul Filler character at the place you want. It can be between words or symbols.
Step 7: The last step is to click on the 390 diamonds button to change the username. While doing, your diamonds will be deducted, and as a result, your Free Fire name will be changed.
If you have a name change card, you can use it to change your name instead of using diamonds. After following the steps mentioned above, your name in Free Fire will be changed.
There is also another way to add space in between your name in Free Fire. Since you cannot add space by simply clicking the space bar on your keyboard, therefore you should use the website known as "compart" to give spaces between characters in your Free Fire name. Follow the steps mentioned below to put space in your game username.
Step 1: Open Google search on your chrome or any other browser. Search for 'compart' in the search box and click on the first link in the search result.
Step 2: A new page will open in your browser after clicking on the link.
Step 3: On the page, scroll down until you see a box picture.
Step 4: Copy the box from there.
Step 5: Open your Free Fire game on your phone.
Step 6: When your game opens, your Free Fire name will appear on the top on the left side of the screen. Click on it.
Step 7: After clicking on your name, tap on the name change button.
Step 8: You can change your anime with a name change card, or else you will have to use diamonds.
Step 9: Type the name you have chosen as your username. Past the copied box between the characters to add a space.
Your game username has now changed! You can also paste special characters in your game username with space. You can find special characters on several websites on Google. All you need to do is copy and paste the unique characters.
Wrapping up
Gaming has evolved a lot. Looking at gaming in 2022, the craze over these popular gaming platforms is no joke. We are seeing how well people are adapting to the new trends and welcoming them with open arms. Additionally, many professional gamers have also made their way as teachers, teaching amateurs how to play these games.
There are competitions being held on a global level where gamers can compete with each other and win millions! Nevertheless, you can see videos of gaming on YouTube and social media platforms booming each day.
Free Fire came as one of the most powerful games and is continuing to remain popular. After all the excitement, why wouldn't it be? So, say goodbye to the boring names in the name and welcome your unique name where you can even give space! So, what are you waiting for? Go ahead and try the method mentioned above right away!
Frequently Asked Questions
1. How can I change the username of Free Fire?
If you want to change your name in the Free Fire game, tap the notebook button right beside your Free Fire name. Then write a stylish and catchy username for your game. You can also add characters in your name.
2. How can you put fonts in your Free Fire name?
You can put fonts in your Free Fire name. For that, you have to visit the website www.nickfinder.com and click on "Click text generator." Scroll and find your preferred font and click on it. Now you can paste the special characters in your game username in the change name option.