When we are out on the streets doing our thing, we bump into a fair number of people regularly, right? You can enroll in a new class and possibly end up making buddies there, or you might make new pals at a café. Meeting new people is really common, but can you exchange phone numbers with all of them? We don't just hand out our personal contact information to everyone we meet.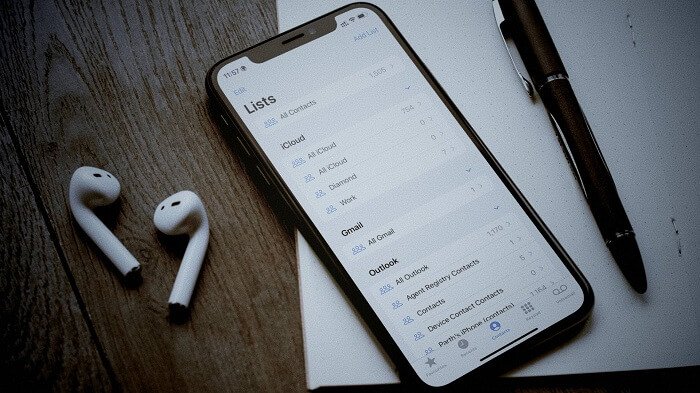 We tend to share our contact numbers when we hit it off! Additionally, it often becomes necessary to save their number when you are working in groups. We occasionally wonder who has also stored our phone number in their contact list out of pure curiosity.
Sometimes you don't have your phone in hand and give your number to someone so that they contact you. But if they don't, it may prompt you to doubt whether they have saved your phone number.
Anyway, if you're one of the folks who wants to find out who has saved your phone number in their contact list, we are here to help. So, read the blog to the end to know your answers.
Can you find out who saved your number in their contact list?
Unfortunately, no built-in feature on your phone can let you know who has saved your phone number in their contact list. We see that you are interested in learning more about any other alternatives available since our smartphones are no longer an option.
Having said that, let's now look at how we can make it happen! We would have to rely on alternative strategies. We can assure you that doing so will be worthwhile if you read the parts below.
WhatsApp comes to the rescue
Yes, WhatsApp can tell you if your crush has saved your number or not when your phone can't! Living in a country where WhatsApp is popular and not being a fan of it is kind of absurd.
The instant messaging application is now being used by everyone we know. You would still have this application loaded even if you utilize different instant messaging apps because practically everyone uses it.
WhatsApp gives you a lot of cues to tell if someone has added you to their contacts or not. For instance, you are unable to view a friend's display photo even if your other friends can. You can't view their story uploads, but the person sitting next to you and their contact can.
But most of all, the broadcasting messages can give you a hint too. Well, as per WhatsApp: Only contacts with (your number) in their address book will receive your broadcast messages.
We will tell you how to send a broadcast message in the section below. The one thing you need to do is to save the person's phone number in your contacts.
Steps to send a broadcast message in WhatsApp:
Step 1: To begin, you must launch the WhatsApp app on your phone.
Step 2: There should be a three-vertical dot symbol at the upper right part of the main chat screen. Please click on it.
Step 3: Do you see the New broadcast option among the list of options? You should click on it.
Step 4: Select the target person and tap on the checkmark icon at the bottom right corner.
Please note that you need to select at least two contacts for the broadcast.
Step 5: You should then send a quick message to the group. Long press on this message and go for the info option.
Do you happen to see the target person's name in the Read by or Delivered by sections? If neither of the two sections has their name, then they haven't saved your contact in their phone.
Contact syncing options on other social media
Social networking services like Facebook, Instagram, and Snapchat all include contact syncing functions. If you're not aware, contact syncing is a simple way these platforms employ to let you access people saved in your contacts list.
Even instant messaging apps like Telegram have a contact syncing feature that allows you to determine whether someone has saved your contact in their phone's address book. If you cannot locate the individual you are looking for on any of these social media, it's possible that they have not saved your phone number.
They may not utilize these social media platforms, which is another reason you can't see their contacts. We propose that you turn on contact syncing on all of the social networking sites you use that provide it in order to strengthen your hint.
Be upfront about it
Your other option is to confront the individual you think hasn't saved your contact on their phone if, by some odd luck, the two approaches don't work. This is the problem's easiest solution, and you can expect a reasonable response.
If you have their phone number, call them or meet them in person. Keep in mind that if they haven't kept your phone number, they might not be able to identify you.
Never accuse someone; instead, listen to what they have to say. Please pay attention to their justifications because they might have forgotten to save your phone number.
Wrapping up
We have arrived at the blog's end, so let us discuss the topics that we have discussed today, shall we? So, the topic of our conversation was how to know who saved my number in their contact list.
Please take a look at the methods, as we have covered the topic in great detail on the blog. We spoke about using WhatsApp and contact syncing on various social networking sites. We also discussed being upfront about it before wrapping up the blog.
So, let us know whether you liked the responses we gave you today. You can post comments on the blog with your views.
Please share the blog with anyone else who requires these solutions. You can follow us for more how-to blogs on tech-related topics.
Frequently Asked Questions
1. Why am I unable to add someone to my WhatsApp broadcast list?
They don't use WhatsApp, which is the main reason you can't add them to your WhatsApp broadcast list. They would then need to download the app, and you would need to add them again. Additionally, they must add you to their phone's address list in order for them to receive your broadcast message.
2. Is there a maximum number of people we can have on our broadcast list?
Yes, each broadcast list allows you to choose up to 256 contacts, but you are free to create as many broadcast lists as you like.
Also Read: How to Know if Someone Touched Your Phone