Music has become a form of therapy for many people. Over the years, we have seen music transcending languages and all the barriers. Despite the language you speak, your gender, and your location, music is accessible to everyone and usually works as a therapy for us.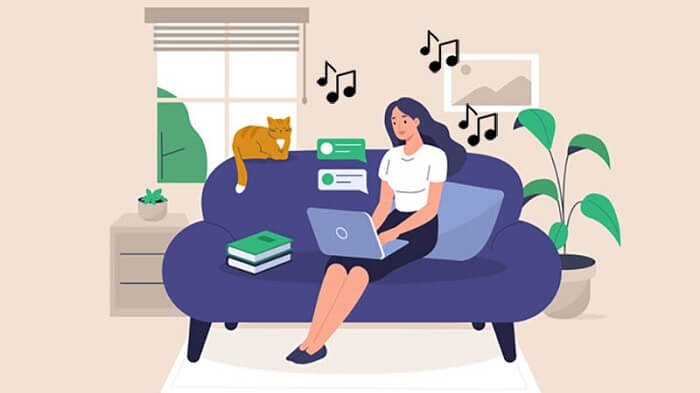 From Metallica taking over the world decades ago, Michael Jackson being the king of pop, and BTS breaking the language barrier through music in 2022, it is surprising to see how music has evolved over the years.
We have seen people listening to music with every single task they perform. Whether you are working out in a gym, doing yoga, studying, working, cooking, or basically any task, music can be your best company! While it is possible to listen to music while doing every task, one problem that you may face is how to listen to music while you are on a call.
You may want to enjoy music while attending a call. Let's say you are attending a conference call, and you want to play music at the same time to pass the time or for whatever reason.
However, many people face problems listening to music while attending a call. Be it Android or iPhone; you can listen to music simultaneously while on a call! Wondering how? Well, this is the right post for you to find the right solution!
Over the past few days, we experimented with how to play music while attending a call on Android and iPhone devices. Luckily, we found some amazing methods that work effortlessly and help you enjoy your music while being on a call!
So, are you ready to explore how to do that? Let's get into the details below!
Steps to Play Music Simultaneously on a Call on Android Devices
Android smartphones are commonly found. Similarly, most users try to listen to songs and attend a call on Android. You will require a pair of earphones if you need to listen to songs. Also, you will be able to hear songs from the ear speaker rather than the external speaker of your Android device. You should also not worry about the other party on the call listening to your songs or audio while you play them.
Step 1: Return to your home screen by sliding back when you are on a call.
Step 2: Find your music streaming application, such as Spotify or a local music player app.
Step 3: Once locating the music application, you should open it and search for a song of your choice. After searching for a song, you should hit the play button.
Step 4: You should adjust the volume according to your preference. Once done, you will likely be able to hear the song on your Android device.
Some Android users have reported that they cannot hear music while on a call. As a result, the latest Android versions allow users to play songs simultaneously while on a call. If you have an Android device running an older version, try updating it to its latest version. Once done, you can likely hear songs and the call simultaneously.
Steps to Play Music Simultaneously on a Call on iPhone
iPhone enables its users to play music on call, just like Android. On an iPhone, your call will not be muted if you decide to play music on a call. You can also use the YouTube application to listen to music on an iPhone.
Step 1: You should head back to your home screen when you are on an active call with someone on an iPhone. You can reach the home screen by tapping the home button on your iPhone.
Step 2: You can use Apple Music or any other music streaming platform to search for the music you want to listen to while on the call.
Step 3: Once you have searched for the song you want to play, you should tap on the play button at the bottom of the screen and wait for a few seconds until the music is played.
Step 4: You can hear the music in the background and the active call on your iPhone. You can also return to your home screen or call screen after you have listened to the song.
Note: It is vital to note that the music volume will not be as loud as usual while on a call. The volume will be comparatively low even if you put it on the highest volume!
That's all! You can easily listen to your favorite music and speak over a call at the same time.
Wrapping up
Music is a form of escape for some of us. Whether you are happy, sad, excited, or angry, there is always music for your mood! Music has the power to heal you and lift your mood instantly. Well, we can talk about the power of music endlessly.
But, if you are someone who is addicted to music and loves listening to music all the time, your biggest challenge of listening to music while attending a call can be easily resolved! With the methods mentioned above, you can easily play your music while talking to your friend or anyone!
The methods mentioned above are for iPhone and Android, so irrespective of your device, you can enjoy your music on the go!
With that, we hope this article was useful and helps you continue your mood while playing music in the background when attending a call. So, go ahead and try the method above. Let us know if the method listed above worked for you in the comments section below!
Frequently Asked Questions
1. Do Android versions older than Android 11 allow a user to play songs while on a call?
No. You will need to update the Android version of your device to listen to music simultaneously while on a call. It would help if you tried updating your device's software by accessing the settings on the phone.
2. Why does music not play from the external speaker when on a call?
Some smartphones have a microphone in their external speaker or beside the speaker, which records your voice for the call. On the other hand, the ear speaker through which you can hear the other person talking to you. Hence, you can listen to music from the ear speaker as it does not record any voice.
3. What if I lock my iPhone's screen while listening to a song on YouTube and being on a call?
You will likely not hear the song playing in the background if you do not have a YouTube premium subscription.
4. Should I use a third-party application to listen to songs and call simultaneously?
As of now, there are no such applications that allow users to do both activities at the same time. Your smartphone's software or operating system can allow you to perform both activities.