Over the years, Excel has made our lives easier and more well-organized, especially if you are considering working spaces.
However, Recovering overwritten Excel files is exhausting if your important draft is overwritten. Most of the time, it occurs when you replace an old file with a new one with the same name.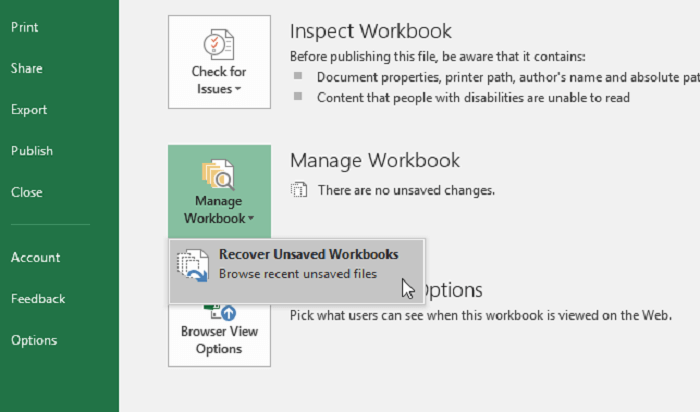 Fortunately, other options are available if you're unsure whether the overwritten file has been permanently gone.
We decided to help you in recovering your overwritten file and have carefully chosen the top five techniques in this article.
As you read the article ahead, we will be covering various step-by-step guides with different methods to recover your overwritten excel files.
So don't worry; your overwritten file will be recovered right away!
How Can I Recover My Overwritten Excel File?
There are various methods to recover an overwritten Excel file. Get a thorough explanation of all of them below.
Note here all the methods mentioned below are tested, so you can rely on our methods.
With that, let's get started!
Method 1. Recover Through Previous Versions Of Files from Backup
Your file history contains all your previous versions of Excel files. Hence, You can recover your overwritten file after turning on your "File history" or "System Restore."
To conduct this process, follow the given steps.
Step 1. Open Windows file explorer.
Step 2. Go to the folder having your Excel files before overwriting.
Step 3. Right-click in the folder.
Step 4. Click on the "Properties" option.
Step 5. Go to "Previous versions." Now browse your desired file.
Step 6. Click on "Restore"
Once you click on restore, your file will get saved on your PC.
Method 2. Restore File From Online Version Of History
If your overwritten Excel files were saved in OneDrive, Google, or SharePoint online library.
Like in the first method, you can recover them by restoring them.
Start your Excel program and follow the given steps.
Step 1. Click on the title and press "Version history" to find all your previous Excel files.
Step 2. Select your desired file and click on "Open Version."
Step 3. The previous version of your file will appear on the screen. Click on "Restore"
That's it! Your file will be recovered now. But this method works only when you have the previous version of your Excel files.
Method 3. Use Autosave
The autosave feature is a built-in tool for Excel to save modified Excel files. All you have to do is to turn on the Autosave feature to save the files and follow these steps to recover them in case they are overwritten.
Step 1. Open Excel and go to files.
Step 2. Click on "Info" in the upper right corner of the menu.
Step 3. Go to "Versions" below the "Inspect workbook."
Step 4. Select your desired file and click on "Restore."
Method 4. Recover From Temporary Files
Sometimes, You might not find your desired file in Excel. This happens when Windows saves your file in a different folder.
Therefore, if you don't find your file by the above method, follow the steps below.
Step 1. Search your file by "C:\Users\Owner\Appdata\Local\Microsoft\Office."
Step 2. Your Excel file will appear. Open it and press "Save as."
Hereby you will recover your overwritten Excel file.
Method 5. Use Recovery Tools
If you are unable to find your overwritten file by the above methods. You have to dig deeper to get them back by using Recovery software.
You can use Recoverit (IS) to recover the files deeply embedded in your drive where you cannot locate them.
Download and install Recoverit (IS) software on your PC and follow the given steps to recover your Excel file.
Step1. Launch "Recoverit" on your PC.
Step2. Choose "All Round Recovery" mode.
Step3. Specify the file location where you saved the overwritten file.
Step4. Click on "Start" to start scanning.
Step5. Select your desired file from the options and click on "Recover."
However, your file will be recovered on your PC due to the complex scanning of the software to find files. You might not find the file in some cases.
Summing Up!
Now that you have reached the end, you have understood how to find and recover your overwritten Excel file.
The above three methods explain how to recover your overwritten Excel file, but to summarize, go to the previous versions of your file and restore them to recover them.
Always turn on the "Autosave" feature of your Excel to ensure your previous drafts are saved in case you need them.
However, It's best to avoid the overwritten file situation if you keep a copy of your Excel files in a separate folder or disk.
Frequently Asked Questions
1. Can you recover data from your overwritten Excel file?
You can go to "File history" on Windows PC and the Time Machine tool on MacOs to recover your data from your overwritten file.
2. Why can't I find the previous versions of my Excel file?
Previous Excel file versions are unavailable if you don't enable your file history.
3. How can lost data be recovered?
You can recover lost data or deleted files in the following ways.
Check your recycle bin.
Search through the Control Panel.
Use data recovery software.
Also Read:
How to Remove 91 from Mobile Number in Excel
How to Export Instagram Followers to Excel
How to Recover Deleted Instagram Messages 2023
How to Hide Someone's Profile Picture on Whatsapp
How to Recover Permanently Deleted Photos from Google Photos