Twitter is one of the oldest social media platforms that have remained strong and popular among all age groups throughout the globe! Earlier, Twitter gained popularity due to its unique features and the creation of its community through a platform.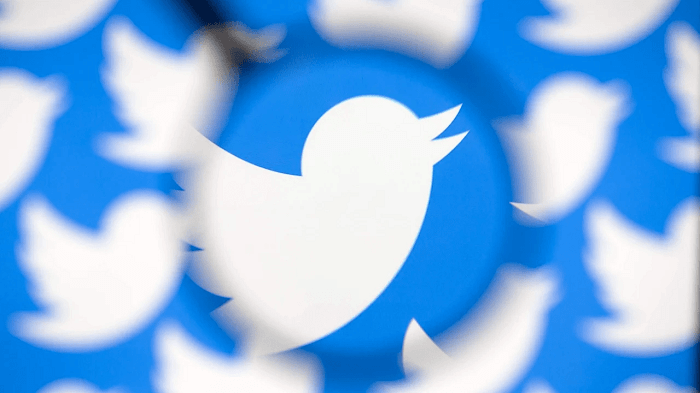 Talking specifically about Twitter, it remained unique due to its prominent feature -tweets. While other social media platforms give you the opportunity to upload pictures to express yourself, Twitter allows you to express your thoughts and feelings through Tweets.
Previously, tweets were limited to 140 words. Thanks to Twitter's constant updates, you can now tweet up to a certain character limit. It also works hard to introduce new amazing features every now and then.
Since people can tweet without limit, you may be curious to know what someone's first tweet ever was! For example, you just joined Twitter and want to see what your friend tweeted for the first time when they joined the platform. In another case, you may be curious to know what a celebrity tweeted first as soon as they joined Twitter.
No matter what your reason is, we have got you covered!
In this article, we will list all the working methods to view someone's first tweet with a step-by-step guide. By the end of this post, we are sure you will find your ideal method and be able to see their first tweet!
With that, let's get into the details.
Methods to View Someone's First Tweet
When you want to find someone's first tweet, it's not a very tedious task these days. Thanks to the recent version updates on Twitter now, we can do it within a few clicks. While Twitter does not provide a direct or any official method to view someone's first tweet, there are some amazing and helpful features that will let you do so.
So now, let's get straight into the three detailed methods to see someone's first tweet below!
Twitter Advanced Search
Twitter does have an official method to see someone's deleted tweets. All you need to know is their username, and you are good to go.
Twitter Advanced Search is available inside the Twitter web/application that you can use to view someone's first tweet. Below is a step-by-step guide on viewing someone's first tweet using the Twitter Advanced search option!
Step 1: Login into the Twitter account you have and go to Twitter's advanced search page.
Step 2: Under the accounts Subheading, type the username of the person whose first tweet you want to see.

Step 3: Now, you have to write down the information you know about the tweet you are looking for. It can be a simple thing like the date or time period when the user might have tweeted the first tweet. If you are unsure, you can simply use your assumption and enter the date or time. The date selection will start ranging from 2006, which was when Twitter was launched.
Step 4: Click on the search button once all the fields are filled up. Within the search results, you will find the list of tweets that the person made during that time period.
Step 5: Tap on the Latest section in the head to view every tweet from that period, and you will have a list of every tweet they sent from that particular time period in reverse chronological order.

That's all! You can browse through the Advanced search section and scroll down to see all their tweets from the time. This way, you can find out their first tweet.
Download the Archive of Your Tweets
Downloading your tweet archives from time to time is considered an excellent social media practice. The archive section holds all your older tweets through which you can view the first tweet. Here's how to view old tweets with the help of the Twitter archive.
Step 1: Go to https://twitter.com/settings/account.
Step 2: Under Your Account, we have to click on Download an archive of your data. After receiving a verification prompt, re-enter your password and choose a verification method.
Step 3: Under the option of Twitter data, click on the Request archive option.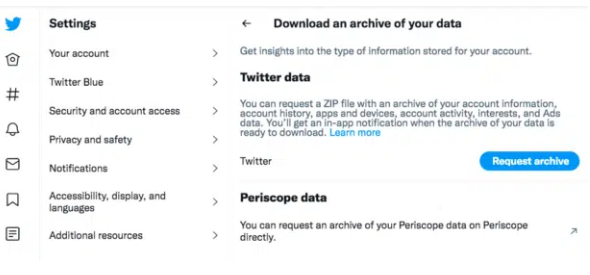 Step 4: After this, you will have to wait for a couple of days, and when it is ready, you will get an email and a push notification
Step 5: Once you receive the notification, click to download the Zip file on your desktop and open the file which will be named as Your archive.html. And click on Tweets.
Step 6: You will now see the list of all your tweets, and you can use a search box and filters to break down the search.
Note: The method mentioned above using archive only lets you see your first tweet. You cannot access someone else's archive to see their first tweet. Therefore, it will only work if you are curious to know which was your first tweet.
Using a Third-Party App
When you don't want to download all your tweets but at the same time, you want to look them up in a scrollable format, this is the option you are looking for. AllMyTweets is a third-party option that helps you to see your 3200 tweets from the past. If you have constantly tweeted a single tweet every day, it will take you back up to 9 years!
Here is a step-by-step guide on how you can use the app to see someone's first tweet.
Step 1: Go to AllMyTweets and log in with your Twitter account and make sure you grant all the necessary permissions and access to it. It can always be withdrawn later.
Step 2: After the login is successful, you can now search for the username you want and look up their old tweets.
Step 3: The results will appear in reverse chronological order, and you also have filters and search options if you want to look for a specific date or time.
Congratulations! You can now view someone's first tweet in a few minutes!
Wrapping up
It is no surprise to see Twitter being a prominent social media platform around the world. Unlike other social media platforms, Twitter remains a go-to social media application for people to express their opinions, feelings, and thoughts, stay updated with the latest news, and more.
You can also use Twitter for business and professional services. Your words matter, and that's why Twitter allows you to express your words through tweets!
We all get curious to see someone's first tweet. Whether you are viewing it for personal or professional reasons, you can always count on the methods mentioned above. All the methods mentioned above will allow you to seamlessly view someone's first tweet.
With that, we hope you found this article useful. Is there any method that we missed? Let us know in the comment section below!
Frequently Asked Questions
1. Will I be able to follow the steps mentioned above for both Twitter Desktop (PC) version and App (Android and iOS)?
Yes! The above mentioned steps work for Android /IOS and Desktop (PC) devices. And remember, the steps will be the same, and there might be a slight difference in the interface, but that won't be an issue. The feature works effectively and smoothly in both scenarios.
2. I cannot find any tweets when I click the search button. What should I do?
This problem generally occurs when the profile owner hasn't tweeted at the time interval you've searched for. Here, in this case, change the since and until in the search, and you will be able to find the first tweet.
3. What happens if the profile owner has deleted their first tweet?
There are many scenarios where the profile owner might have deleted their first tweet, or the Twitter organization might've removed their tweet. Here, in this case, that profile's oldest tweet will be shown to you as the first tweet.
4. Does Twitter provide any in-built feature to view someone's first tweet?
Unfortunately, no. There is no direct official method to view someone's first tweet through Twitter. However, you can use advanced search to see someone's first tweet.