Instagram is one of the social media apps in the business that we can never get bored of. How can you be when the app consistently introduces intriguing new features that we crave after every other day?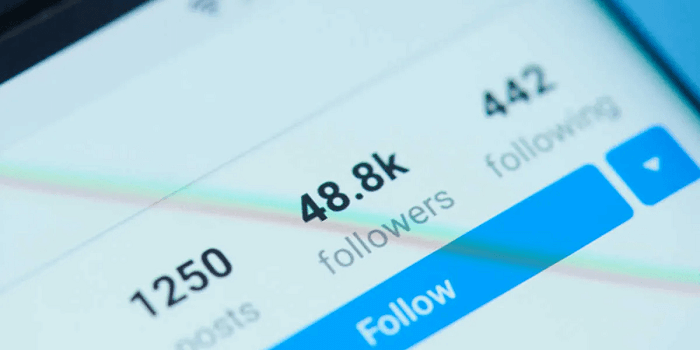 Therefore, there would always be something new to learn and relearn even after using it for a long time. So, sign up if you haven't already.
Instagram has always placed a high priority on user privacy and regularly updates its policies to ensure that users are protected while using the service. And you would know how to enjoy it if you are a devoted Instagram user, right?
Sometimes, we are intrigued to see who has gained new Instagram followers and wonder if it is possible. In addition, we want to know how to do it.
There are a lot of us that think about it. Therefore, it's time to dispel our doubts and receive the answers to our inquiries. So, you must stick with us all the way till the end in order to get your answers today.
Can you view someone's new followers on Instagram?
Well, if you had asked this question a year ago, we would have gladly said that you can view someone's new followers on Instagram. But sadly, Instagram has got rid of this feature that allowed us to view someone's new followers chronologically following the latest privacy changes.
However, we must assure you that there is still hope and that there is something we can do to change the situation. Therefore, you must check the parts that follow if you want to see someone's new followers on this powerful social networking platform.
Check their followers list on Instagram
Each one of us has a followers tab on our Instagram profile. The platform keeps this section so that we can keep tabs on the people who follow us on our accounts.
Well, the followers tab might come in handy if you wish to view someone's new followers on Instagram for some people. We have mentioned this method since many people would love to give it a try and get lucky.
Well, you don't need to do much in these steps as well. We will tell you the steps to check someone's followers list down below.
Steps to check someone's followers list on Instagram:
Step 1: Open Instagram on your device to begin. Please note that you can access the platform via your browser too.
Step 2: Now, navigate to the profile of the person whose new followers list you wish to see.
Step 3: You must tap on their Followers option on the profile page.
This is a list of followers for the individual. You can either scroll down to see the bottom order or check the top order. Perhaps the new follower list you were looking for is here.
Please note that there's a good possibility you'll see someone's followers list in random order once you view it. In that situation, you should go to the next techniques we offer you.
Bring third-party apps for assistance
Well, we are now clear that Instagram fails to tell us about someone's new followers. However, there are several third-party apps available online that claim to be able to complete the task correctly.
Therefore, we will list some of the top third-party options below if you are interested. Although they are trustworthy and secure to use, you are still welcome to read their reviews if you so choose.
Snoop Report
You might have used Snoopreport if you have been using third-party apps to streamline your Instagram activities. But if you haven't, let us tell you that this Instagram activity tracker does a fantastic job of checking anyone's activity on the platform.
The tool comes in really handy because it is also an expert in tracking who someone follows on Instagram. So, they would easily tell you about the new followers of someone's account.
Snoopreport, however, will only function if the profiles you want to track are public, so keep that in mind. So, it is recommended to avoid using this strategy if you don't have any luck there.
However, as it is a paid third-party product, you need to make sure that you are okay with their fees. You only need to keep $0.99 a week (subject to change) in order to get started with their services.
Besides, this third-party tool has an Instagram tracker for both individuals and professionals. You can choose the individual bundle, as we truly don't want to do much. More than 55,000 people worldwide trust it, so give this one a try.
KidsGuard Pro
We have another tool that excels at monitoring someone's Instagram online activities. Compared to Snoopreport, KidsGuard Pro operates a little differently.
In this scenario, you must physically install the application on the target person's smartphone and then sync both of your phones. It gets easy to track their new followers because you have access to someone's entire Instagram account now once you have successfully executed this task.
We must inform you that the approach has some flaws. The target individual must be close to you in order for you to access their devices. This approach won't work if the person is someone you just met on Instagram or you're not close enough to hang out.
Additionally, manually downloading a whole app on a person's phone is a problematic task in and of itself. However, you must attempt it right away if you believe this strategy would be simple for you.
Wrapping up
Let us look at the topics we have reviewed now that the blog has ended. So, the topic of our conversation was how to view someone's new followers on Instagram.
Well, we explained how the app had removed this feature, but there are methods that you can still try. We advised you to utilize third-party applications and verify someone's followers list on the app.
We introduced Snoop Report and KidsGuard Pro in order to help you out. We hope these methods prove to be reliable to you.
We will wait to read your comments, so don't forget to write them down. Also, keep up with our website to read more such interesting blogs.
Frequently Asked Questions
1. Is KidsGuard pro free to use?
KidsGuard pro is not free to use. It is a premium service with monthly and yearly charges. They protect the privacy of your financial information.
They also provide a 30-day money-back guarantee if you're not satisfied with their services. Additionally, you have the choice to discontinue their services after your need has ended.
2. Does KidsGuard Pro have an auto-renewal option?
Yes, the tool has a feature for automatic renewal. Your purchase plan is consistently renewed at the end of the month or year.