Canva is hands-down the best app we have come across for designing our posts. Whether you need it to design your social media posts or banners, Canva has all the right tools and features that will facilitate the design process in no time.
One thing that keeps us using Canva is its easy and eye-catching user interface. The beginner-friendly interface makes it easier to navigate through all the options. Additionally, the dashboard is intuitive, so you can always take a look at your old designs and explore the app.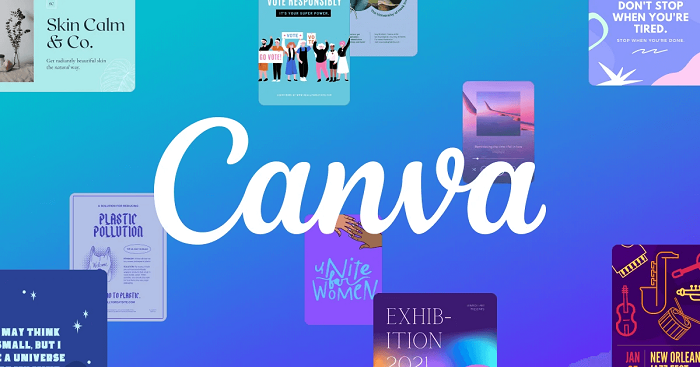 There are hundreds of pre-made templates dedicated to different niches and types of designs you want to create. All you have to do is pick the right template and start editing! What's beyond is that you can even create your resume through Canva with its in-built templates. Undoubtedly, it has been our go-to solution for every design need.
While Canva has a free version that works just fine, imagine how amazing Canva Pro would be. Well, many users find Canva Pro expensive and have multiple thoughts before opting for the paid version.
In such a situation, you may be wondering how you can get Canva Pro for free. Or is that even possible? Let's break the good news for you!
You can get Canva Pro for free! In this article, we have mentioned all the methods to access Canva Pro for free with a detailed and step-by-step guide on claiming your free Canva Pro.
By the end of this post, you can get your hands on your free Canva Pro and start creating your dream designs in no time!
With that, let's get into the details and help you grab your free version.
Canva Pro 30 Days Free Trial
You cannot get Canva Pro free for life. However, the good news is you can grab Canva Pro free trial. The app provides a 30 day free trial for everyone, where you can test out all the premium features and analyze if paying for Canva Pro is worth it or not. You can sign up to grab your Canva Pro for free for the next 30 days!
However, note that you won't be able to use the pro version once your trial ends. You will have to upgrade to the premium version.
Note: Canva Pro free trial is available only for new users. If you have already availed of your free trial previously, you will not be able to get your free trial.
What Do You Get With Canva Pro Free Trial?
Canva Pro makes it easier for individuals, students, designers, working professionals, and teams to bring their dream designs to life. With all the premium features like a brand kit, background remover, and unlimited content, you can design any type of content without any limits!
When you opt for Canva Pro free trial, you can enjoy some of the significant perks. You get access to all the features of the free version, along with additional features that include:
1TB cloud storage to have sufficient space for your designs.
Team collaboration features where you can invite your team and work together on the same project.
Hundreds of premium ready-to-use templates that you can use to create designs for any type.
100+ million premium stock photos, videos, and audio.
Magic resize automatically resizes your pictures or designs for different platforms.
Remove the background from the pictures and focus on the main subject with the instance background remover.
24/7 customer support with priority support from experts of Canva.
Lets you create dedicated folders for each design type and invite teammates to check and edit folders.
Steps to Claim Your Canva Pro Free Trial
Of course, the features mentioned above of Canva Pro seem extremely exciting to miss out on, right?
Well, now that you know what you will get with Canva Pro, let us take a step-by-step look at how you can claim your Canva Pro free trial.
Step 1: Visit the link HERE to go to the official Canva website.
Step 2: Now, sign up with your email ID, Gmail, or Facebook. However, if you already have a Canva account, you can log in using your credentials.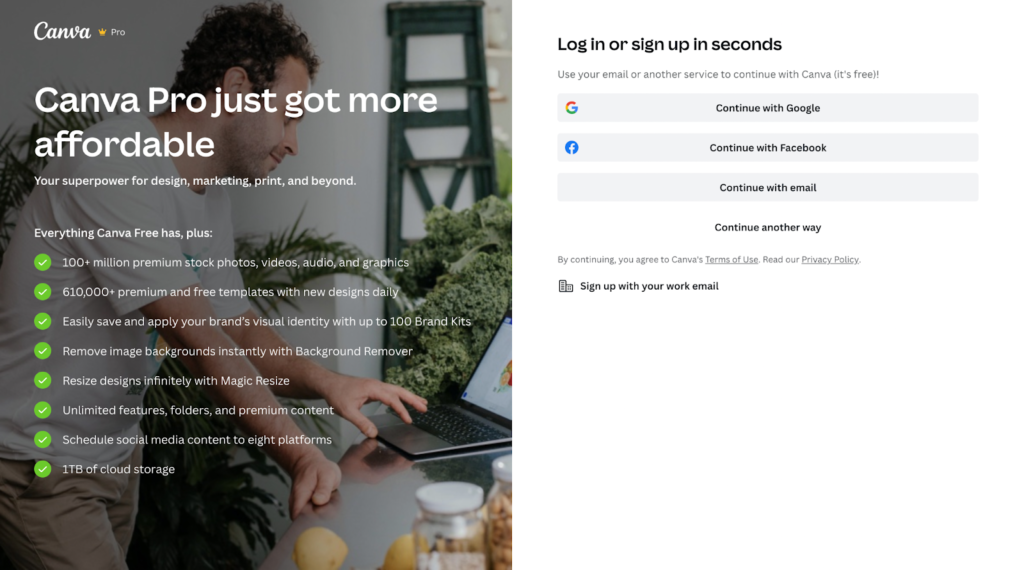 Step 3: Select the pricing term. You can choose a monthly, three months, or annual plan. Once you select the right plan, click on 'next.'
Step 4: Enter your credit card details as asked on your screen. Don't worry. You are not going to be charged a single dollar if you are a new user.
Step 5: Tap on 'GetCanva Pro.'
Step 6: Verify your card by entering the OTP. Wait until the confirmation message.
Congratulations! You can now get access to Canva Pro!
Note: Make sure you cancel your subscription before the free trial ends to avoid getting charged. Since your credit card details are stored by Canva, you will be charged for the subscription you have chosen if you fail to cancel it before your free trial ends.
Canva For Education
As of now, Canva Pro offers free access to Canva Pro for primary and secondary education students. Canva Pro is free for educators. However, they have to identify themselves by following a few simple steps. After verification, they can invite students to join their free educator account.
For high school and university students, there is no free version of Canva Pro available as of now. But you can still opt for a free trial if you are a student to access your account and cancel the subscription before the trial ends. This will help you understand if Canva Pro is worth paying or not.
Canva – Pricing And Plans!
Canva offers affordable pricing plans compared to other online graphic designing tools and software. The free version available works fine for anyone who needs a quick design and does not want to go in-depth in designing their posts.
After the free trial ends, you might want to opt for the premium plan. But figuring out the pricing and which plan is best for you can be difficult. Don't worry. If you have made it so far to our article, we are not going to let you leave with any queries.
Canva Pro charges you based on the number of users. Let us check out the detailed pricing of Canva below!
| | | |
| --- | --- | --- |
| Monthly Plan | Annual Plan | Users |
| $12.99 | $119.99 | 1-5 |
| $47.99 | $419.99 | 10 |
| $152.99 | $1319.99 | 25 |
| $327.99 | $2819.99 | 50 |
As you can see, the annual plans will help you save higher compared to monthly plans. If you are just using it for your personal use, you can go with the basic plan for individuals. Similarly, you can choose the right plan depending on the number of users.
Wrapping up
It comes as no surprise that Canva is one of the best graphic designing tools that caters to the needs of all individuals and professionals. Whether you are just using it to create posts for your personal brand or need to build posts for your agency/company, Canva Pro is a savior!
While the pricing may seem expensive for some users, especially students, you can opt for the free trial by Canva Pro. In this guide, we have broken down all the steps in detail, so you can go ahead and claim your free trial right away!
We hope this article helped you in getting Canva Pro for free. Over to you. Did you access the Canva Pro free trial? Let us know in the comments section below!
Frequently Asked Questions
1. How can I get Canva Pro for free?
You can opt for the free trial that Canva provides. The free trial is available for new users only. So, you can sign up and claim your free trial with our step-by-step guide mentioned above.
2. How Can I get Canva Pro for free if I have already used my free trial?
Unfortunately, you cannot redeem your free trial if you have already claimed it previously. On a side note, there is another option that you can use. You can sign up using a new email that you haven't used before to create your Canva account and follow the steps mentioned above to get Canva Pro for 30 days for free!
3. Is Canva Pro worth paying for?
Yes! Canva Pro is worth every penny you pay. As dedicated users of Canva Pro for years, we loved each feature. The app has made it extremely easier to create any design you want.
4. How can I get Canva Pro for free if I am a student?
If you are a primary or secondary school student, you can get Canva Pro for free through your teacher. You can contact your school to give you access to your free account. However, if you are a high school or university student, you can only use Canva Pro for free through the free trial available.