Snapchat has indeed become a go-to application for people worldwide to share a glimpse of their daily lives. With so many exciting features, Snapchat remains a highly used platform that allows users to maintain their complete privacy.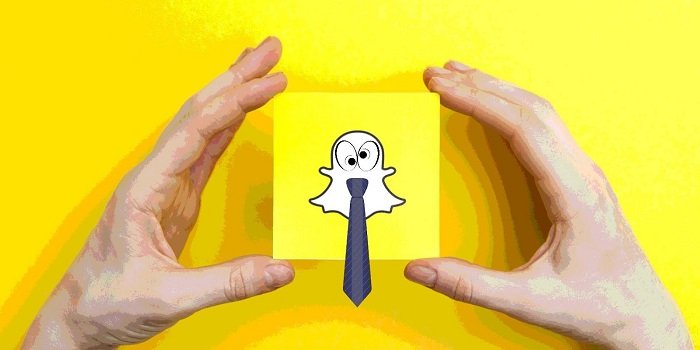 One of the most popular reasons behind people trusting Snapchat is because it remains completely transparent to its users. It ensures you are aware if someone takes a screenshot of your chat, stories, or snaps that you send, and even notifies you when someone screen records your chat. This allows users to know who is trying to misuse their information or share it with others.
Additionally, Snapchat has a strict policy when it comes to breaking its rules. For instance, if you try to breach its policies using other tools, Snapchat may ban or suspend your account. After all, all these measures are taken to protect your privacy and make sure you have a safe experience on the platform.
Furthermore, you can also report a user if you feel like they're posting inappropriate content or they are threatening you in any form. Snapchat will then take action against the user. However, you must be aware that Snapchat logs out your account from your device if the same account gets logged in on any other device. You can clearly identify that someone logged into your account.
So, as curious as you are to know whether Snapchat allows you to log into someone's account without notifying them, this article will help you know all the methods and tricks that can work.
Note that we do not promote any of our readers to spy or illegally log into someone's account without their consent. We only encourage you to follow the methods given in this article for a rightful purpose only.
Does Snapchat Allow You to Log Into Other People's Accounts?
If you wish to log in to someone's account, you must know their username and password correctly. If you do not know the information, Snapchat will notify the account owner that someone tried to breach their account.
This is where third-party applications come in handy, which can break through the security barriers. Snapchat is a highly secured app with many features to keep its users safe.
There are a few apps used for spying that works in stealth mode, which give you the update about the actions going on on the user's phone whose Snapchat account you want to login. One such app is MSpy. It also has various other features like a GPS tracker, which can even track the phone's location.
Note: The applications mentioned below will work for Android devices. Additionally, it may pose a threat to your security and data. So, make sure you try out these applications at your own risk!
1. MSpy
Step 1: Visit MSpy's official webpage. You can also see an option for buying the premium subscription, which is recommended because it has uninhibited features of the application.
Step 2: Download the app on the user's phone whose account you want to log in. Ensure that the phone settings allow the download of third-party apps. After the application is downloaded, sign in with your username and password.
Step 3: After the above steps get completed, remove the icon from the main screen of the user's phone. It is recommended, so the user does not find out their activity is being tracked.
Step 4: After that, visit the MSpy dashboard with a remote device and select the social media option. After that, select specifically "Snapchat" to track the activity in the application. The user's activity information will be sent to you on the remote device.
2. Spyzie
Another similar application is Spyzie which can be used to log in to someone's Snapchat account without them knowing. This application also works in stealth mode.
Below is a step-by-step guide on using the application to log into someone's account without notifying them.
Step 1: Visit Spyzie's official webpage to download the application. Two plans are available, which are basic and premium. It is advisable to go for the premium plan as it has access to uninhibited features.
Step 2: After that, you must install the Spyzie application whose Snapchat you want to log in to. Put your username and password in the application and ensure that you delete the app icon from the app drawer or home page.
Step 3: Turn off any possible notifications or updates from the application so that it works appropriately in stealth mode.
Step 4: After that, you can access the application's dashboard remotely to track the activity of the user's Snapchat account.
If you notice any suspicious activity with the application, delete it right away. Also, make sure you delete the cache files from your phone as well.
Wrapping up
This comes as no surprise that we all love using Snapchat due to various reasons. It has easily enabled users to share their lifestyles and maintain their secret conversations without worrying about anyone capturing their information!
With so many amazing features that Snapchat offers, you can enjoy the application to its fullest! However, you can be curious to know if you can log into someone's account or not. For instance, you may want to check your partner's account, but you are afraid of them getting to know you!
So, the methods mentioned above can work for you without worrying about them getting to know about it. Go ahead and try out the methods above!
We hope this article was useful in understanding how to log into anyone's Snapchat account without notifying them. If you have any other methods, let us know in the comment section below.
Frequently Asked Questions
1. How can I watch someone's Snapchat story without them noticing?
To view someone's story anonymously, turn the airplane mode on. The mobile data and WiFi will be turned off. Now you can open the Snapchat application and view the user's story. After you finish viewing, clear the cache of the Snapchat application. Turn the airplane mode off and use your phone usually. In this way, you can view someone's story on Snapchat anonymously.
2. How to find out if someone logs in to your Snapchat?
You can find the login info in the "Login History and Account Info" section. This section contains the date and time of the account creation and information about the devices that have your Snapchat account logged in.
3. Can I use third-party applications for iOS devices?
Unfortunately, we couldn't find any appropriate application that helps you log into someone's account on Snapchat without letting them know about iOS devices. Apple prevents using third-party applications due to its strict user policies. Therefore, we do not recommend trying it out!
Also Read: How to See Someone's Snapchat Friends List