Users of the popular social media site Instagram can share videos and photographs with their followers. Having been introduced in 2010, it has since expanded to become one of the biggest and most popular social networks, with more than one billion active members per month.
Instagram users can post and share a wide range of media, including images, movies, and short videos known as "Reels." Users can connect with one another on the site using several tools, including commenting, liking, and direct messaging.
Businesses and organizations can also create profiles on Instagram to engage with their clients, advertise their goods and services, and create personal accounts. The platform gives advertisers various options to connect with and interact with their target audience, including sponsored posts and advertising.
In general, Instagram is a well-liked option for personal and business use because of its emphasis on visual material, creative expression, and community building. It can majorly be done via posts. Content that users share on the Instagram platform is called posts.
These posts may contain images, movies, reels, or short-form video material. Users can publish their posts on social media by uploading them to their profiles. Their followers can then interact with the content by leaving likes, comments, and other forms of interaction.
Instagram postings range from candid snapshots of daily life to expertly crafted material from brands and organizations. They frequently highlight real-life occurrences, travel experiences, individual fashion sense, and goods or services. The site is a popular alternative for sharing and marketing material across several interests and sectors due to its visual nature and sizable user base.
Ever you have thought of simulating your posts before you post them on Instagram to see how they will look? Or have you ever thought of creating a fake post to prank your friends? If your answer to these questions was yes, then this article is where you can finally end your search. Hang tight with us till the end of this article, and we will tell you everything there's to know about fake Instagram post generators.
Let's break this process into a detailed series of Explanations, methods, and steps.
Explanation
Users can generate and customize phony/fake Instagram posts using a program called a fake Instagram post generator, which includes false images, captions, comments, and likes. Users often input or choose various components of the fake post using an interface, such as a profile image, a photo or video, captions, and comments.
Once the elements have been chosen or entered, the program creates a fake Instagram post with the user's specified elements that resembles a real Instagram post. This can be used to make jokes and parodies or to test out various layouts or styles for actual Instagram posts.
It's crucial to remember that making and making public phony Instagram posts can be dishonest, deceptive, and may even against the platform's terms of service. Furthermore, spreading false information on social media can damage your credibility and reputation. Therefore, it's crucial to utilize these platforms sensibly.
There are hundreds of third-party websites like zeeob, code beautify, etc. But for you, we have chosen the most optimized and easy-to-use website for creating fake Instagram posts. The name of the website is generatestatus. You can custom modify every single detail related to your post.
Steps to Generate Fake Instagram Posts
Let's make the process easier for you by laying down a step-by-step guide below!
Step 1: Open your web browser and go to generate-status website.
Step 2: Scroll down until you have reached the section, as shown in the image below.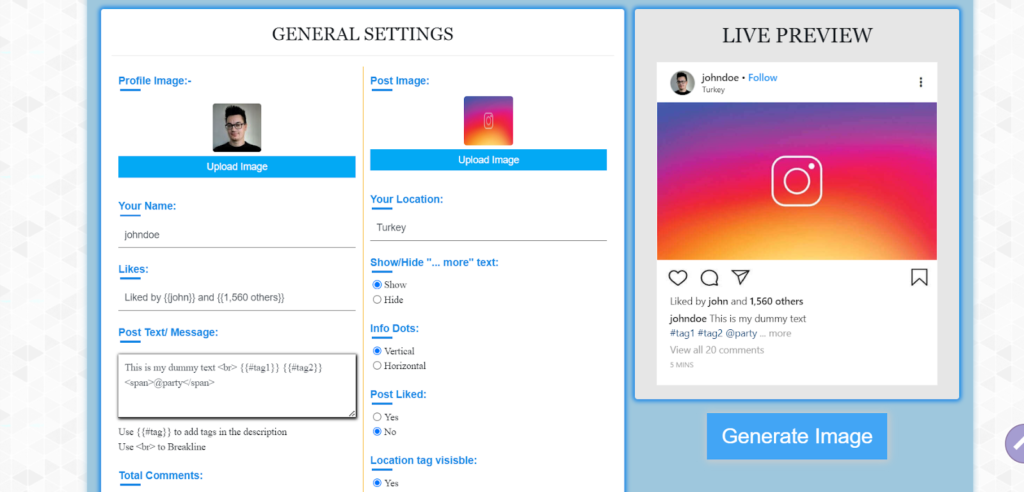 Step 3: Update all necessary fields in the sections mentioned, like Name, Likes, Message, etc.
Step 4: Once you have filled in all the details, Click on "Generate Image" and let the website do the magic for you.
Step 5: You will see an interface shown in the image below, and you can now share it using the link.
FAQs
1. How do I pick a generator for fake Instagram posts?
When selecting an Instagram post generator, consider features, usability, device compatibility, and pricing. To choose the best tool for your needs, you might also want to look at reviews and suggestions from other users. Choose a platform with user-friendly UI and easy-to-operate website functionality.
2. Is it legal for me to utilize an Instagram post generator for work?
Yes. Many Instagram post generators provide tools and features made especially for companies and organizations, such as branded templates and analytics. It helps them to visualize and simulate the post before posting it to social media.
3. Is using an Instagram post generator secure?
Yes. It is typically safe if you employ a reliable, secure Instagram Post Generator. To ensure you understand how your data and content will be handled and stored, it's crucial to read the terms and conditions and privacy policy of each tool you use.
Wrapping Up!
Images, movies, and little videos known as "Reels" are just a few of the types of media that Instagram users can post and share on Instagram. Users can communicate on the website by commenting, liking, and sending direct messages.
To interact with customers and promote their products and services, businesses and organizations can also set up profiles on Instagram. A tool dubbed a fake Instagram post generator allows users to create and customize fake Instagram posts, complete with fake photographs, captions, comments, and likes.
This can be used to test out different layouts or styles for actual Instagram posts and make jokes and parodies. Keep in mind that publishing fake Instagram posts can be dishonest, deceitful, and even against the platform's terms of service. We have mentioned a fantastic tool to help you simulate and visualize Instagram posts. It can be a great tool if used ethically.
As promised, we have mentioned all the reliable methods that help you to know about and create posts on fake Instagram post generators. So, what are you waiting for? Go ahead and try the methods mentioned above and showcase your creativity!
We hope this article was useful in understanding how to create posts on fake Instagram post generators. If you cannot find anything, let us know in the comment section below, and we will help you find the right solution!