When Snapchat launched itself, it gained popularity quite easily and faster than other social media platforms. Snapchat was introduced with unique features that no other social media platform offered.
Snapchat was one of the first platforms to offer the feature of 'stories' that caught the attention of millions of people, including top-rated celebrities who took up Snapchat to share their day-to-day activities and engage with their audience.
Especially Gen z and millennials are the biggest audiences of the platform. It might amaze you, but Snapchat was also one of the first social media to provide unique lenses to make your pictures flawless and fun to click.
Some popular features include stories that disappear within 24 hours, streaks, games, Bitmoji, stickers, a collection of beautiful lenses, audio, video calls, and more.
Snapchat has always made it clear about its focus on users' privacy and security. Above everything, it provides a safe user experience. You will be notified immediately when someone clicks a screenshot of your post, chat, or even friendship profile. Additionally, the chats also disappear as soon as they view them, allowing safe space for the conversation between two people.
Despite all, there are situations where you do not want certain people to see what you are posting. However, at the same time, you do not even want to block them, maybe because they are your family or people you know. Blocking the person when you know them can be rude sometimes.
But, maintaining your privacy and hiding your actions from them is also a crucial factor. If you are worried about hiding someone on Snapchat without blocking them, the answer is YES!
As mentioned, Snapchat has always focused on users' privacy. You get plenty of options that will allow you to hide someone but also not block them.
In this article, we have mentioned all the methods to hide someone without blocking them. So, are you curious to know how to do the same?
Let's find out all the options below!
Methods to Hide Someone From Snapchat Without Blocking Them
Many people assume, 'if you want to hide someone, why not block them?.' Well, while this certainly seems like a straightforward solution, it may not be the best for everyone. Everyone has their own reasons why they cannot block someone but also do not want to entertain or engage with them.
For instance, you do not like their snaps or are constantly bugging you with their snaps for 'streaks,' but you do not want to sound rude by directly saying them. If you are in a similar situation, below are a few methods that will work!
1. Remove Them From Your Snapchat Friend List
One of the quickest methods to hide someone from Snapchat without blocking them is to unfriend or remove them from your friend list. When you remove someone from your friend list, the person does not get a notification. They can only find out when they search for your name or try to message you. Here's how to remove someone from your Snapchat friends list:
Tap on the search icon at the top.
Search for the friend's name you want to remove.
Now, long press on their name until a pop-up appears.
Tap on the 'manage friendship' option.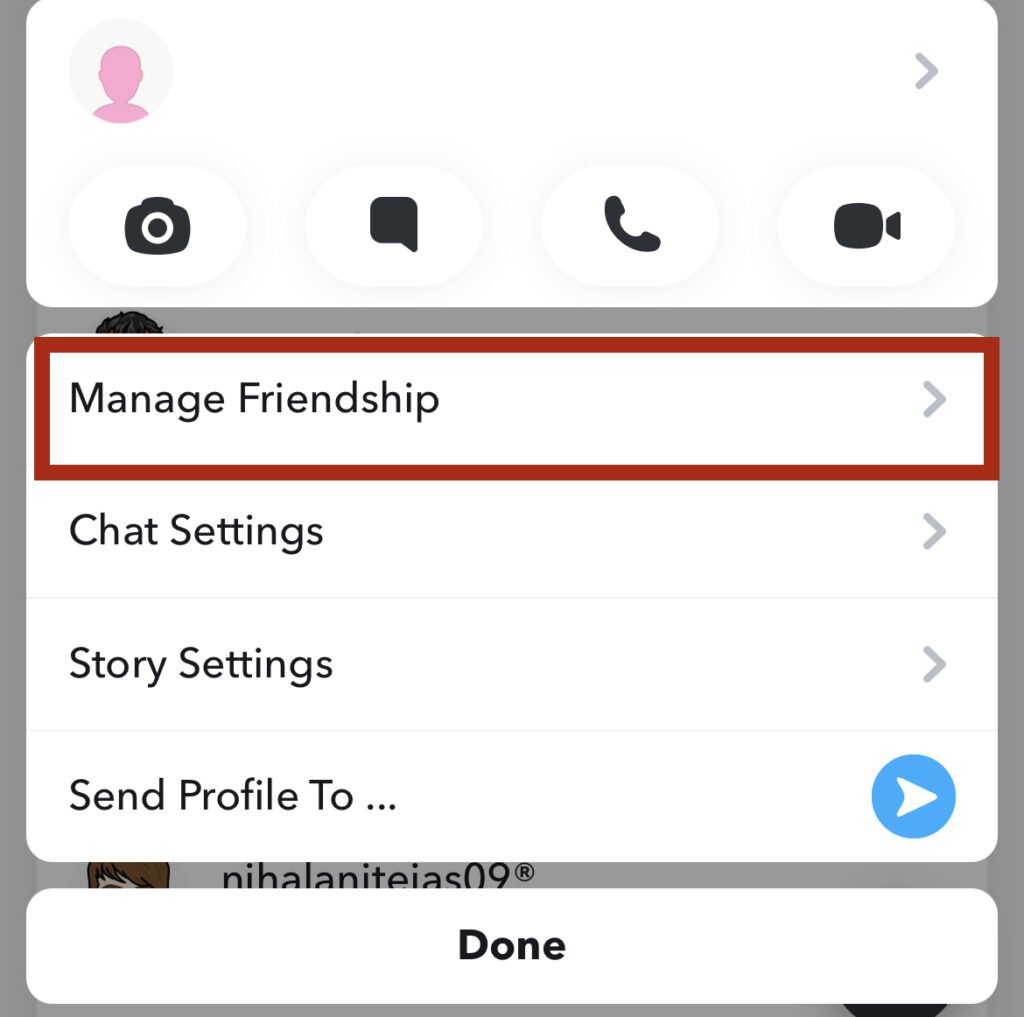 Click on 'remove friend.'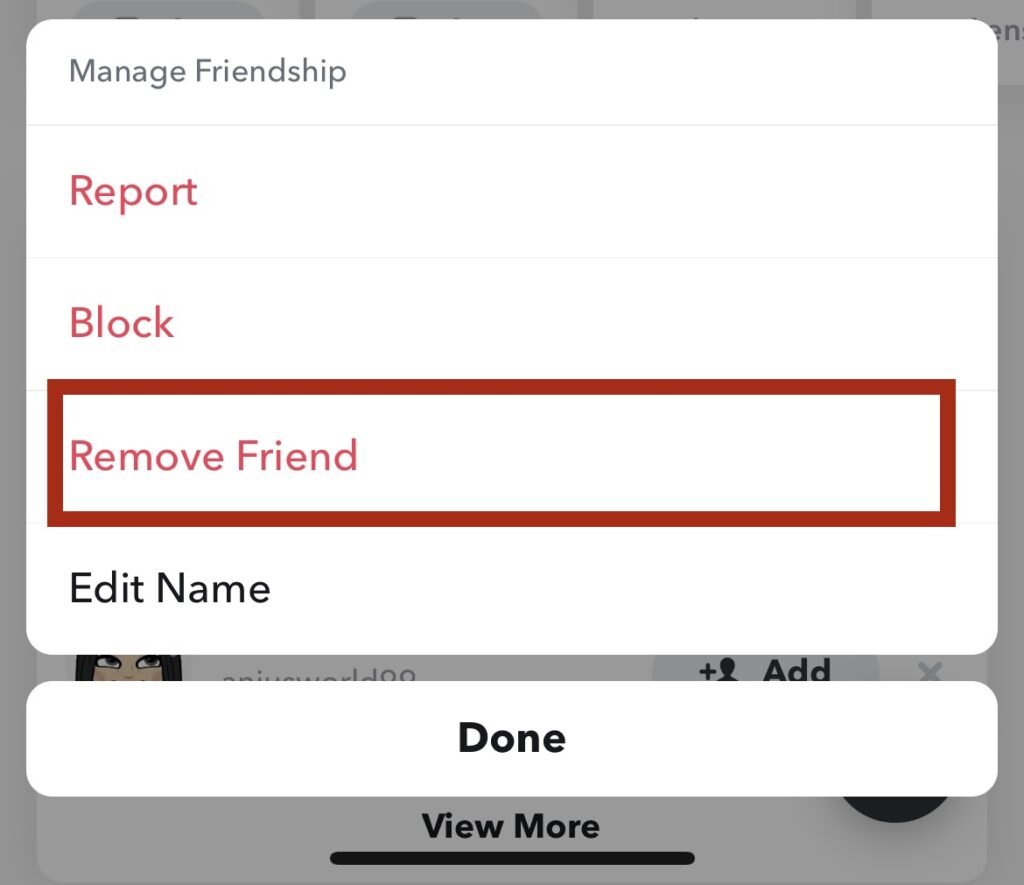 That's all! The friend has been removed and will no longer be able to see your post. However, the person can add you back or add them back whenever you want.
2. Hide Your Story Updates From Them
Suppose you have your family on Snapchat as your friends and you went to a party last night where you had a lot of fun. You want to share your best moments with other people, but at the same time, you don't want your family members to find out.
In such cases, blocking them for not letting them see your stories may not be the right option. Furthermore, you also want to share the stories. So, what are your options?
The answer is simple! You can hide a specific person or people from viewing your stories. This fantastic feature allows you to share your stories with everyone except a few people depending on your preferences, giving you the privacy you need.
Rest assured, Snapchat does not notify the person that you have hidden them from viewing the story. When you post your story after hiding it from them, they will simply not see it on their stories section and will never be able to find out (unless someone else who saw your story tells them).
Steps to hide your story from someone without blocking them:
Open Snapchat on your phone.
Tap on your profile at the top-left corner.
Now, click on the 'settings' icon at the top-right corner.
Scroll down until you find the 'WHO CAN' option. Click on 'View my story.'
You get three options – Everyone, My Friends, and Custom. Tap on 'custom.'
Your entire friend list will appear. You can manually select people whom you hide from viewing your story.
After selecting, tap on the 'block' option below.
Even though the option says "Block," it only blocks them from viewing your story. The person can still be on your friend list and send you messages. They only get restricted from viewing your story. Isn't this the most convenient method to hide them without even letting them know?
3. Mute Their Conversation
Snapchat streaks have become one of the common ways to send snaps to each other. But what if you find it annoying when someone sends you snaps in an attempt to start a 'streak.'
We all have at least one person who spams us constantly with their annoying snaps, even when you are least interested in opening them. Since you do not want to block them or tell them directly that you do not wish to receive their snaps, one of the most convenient methods is to mute them.
Muting them prohibits you from receiving notifications when they message or send you a snap. Although you can see them in your chat section, you will not be notified separately.
You can follow the steps to mute anyone:
Open Snapchat and swipe left to the chat section.
Long press on the friend's conversation you want to mute.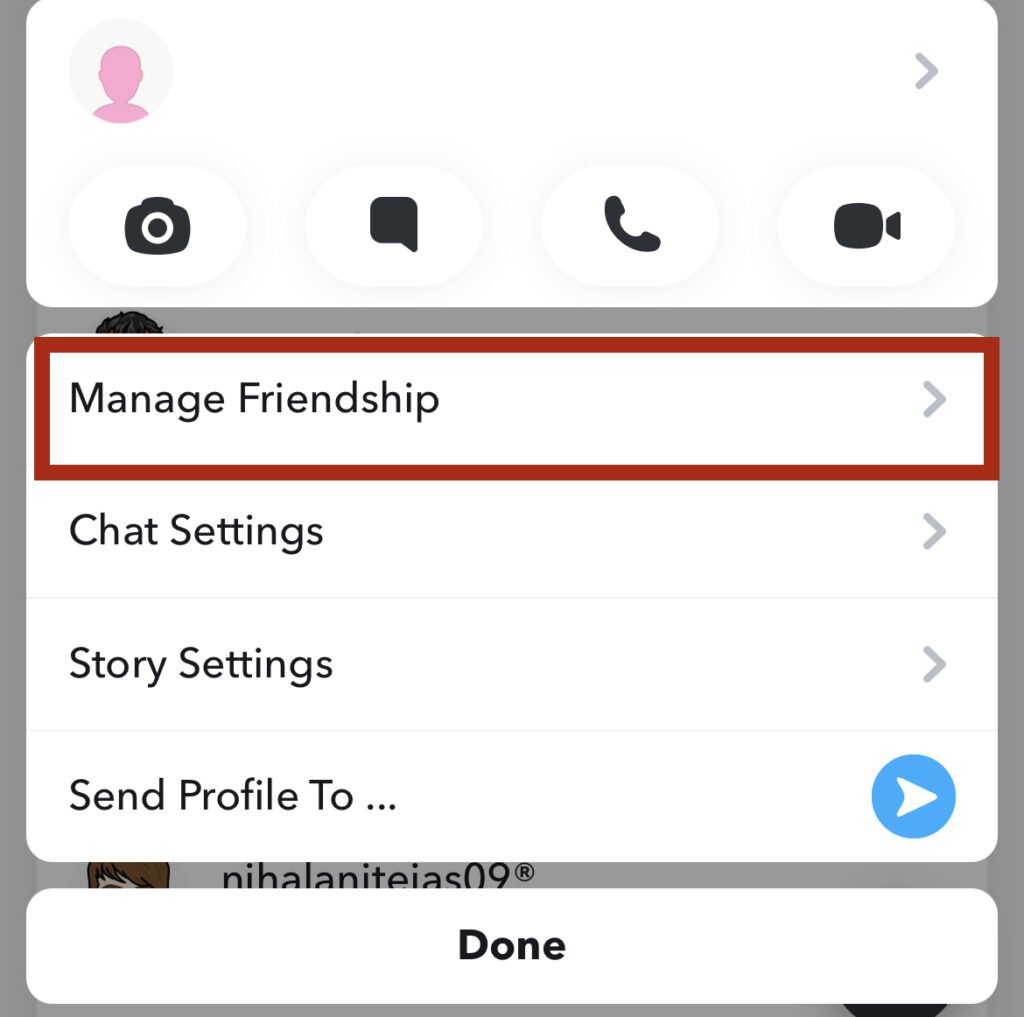 Toggle the switch in front of the 'Message Notifications' option.
4. Report Them
With the rise of social media, cyberbullying and harassment have also risen significantly. With easy access to the internet, many become victims of threats, harassment, and online abuse.
Whether you are being harassed by a stranger or a friend, muting them or blocking them will not help. If you block the person, there are still chances of them doing the same with someone else on the platform.
You can report their account to Snapchat through the settings. When you report it, you will be given multiple options to choose from. After selecting the right problem, you will be asked to be clear and explain the incident or their actions. Be clear and precise when answering. Make sure you are giving correct information. Once you are done explaining, tap on the submit option.
After reporting them, they will no longer be allowed to send you messages. Additionally, Snapchat will take a look at their account based on your report and take action accordingly.
Wrapping up
Even after years of its launch, Snapchat still remains a popular social media platform. The app keeps adding new features to make it appealing to its users with plenty of new features.
As per various data, there are millions of active daily Snapchat users. Over the years, although other social media platforms have stolen its features, Snapchat still remains the first app to introduce the stories and other popular features.
Since people like to share their day-to-day lives on Snapchat, you also want to protect your privacy. If you were curious to find out how you can hide someone from Snapchat without blocking them, we hope this article helped you explore all the options.
So, now you no longer have to worry about posting an embarrassing video or about a secret party that you do not want your family to know. Follow the methods, and you are all good to go!
Which method works the best for you? Let us know in the comments section below!
Also Read: How to Hide Someone Without Blocking Them on Snapchat