Recover deleted Instagram posts: Instagram is an amazing application, allowing users to post photos, videos, statuses, etc. For sharing your daily activities and staying connected with the people you know across the globe to showcase your skills, the platform caters to the needs of every user.
Content creators use this platform to drive traffic to their profiles and posts. Apart from content creators, several businesses also run on Instagram due to its immense functionalities, making businesses flexible.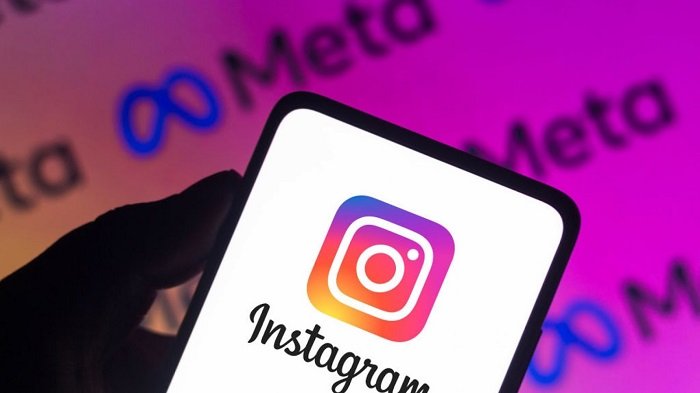 Bought by Facebook in 2012, Instagram has attracted many users to their platform. Users can now run the application on any smartphone, iOS device, or PC. They can connect with celebrities, musicians, world leaders, friends, family, and many more. Whenever a user posts any photo or video on Instagram, their followers can interact with them. Similarly, users can also interact with people they follow.
When you delete any post mistakenly, it vanishes within seconds. However, there is always a chance to recover them. Instagram keeps every data even when you delete it. The 'recently deleted' feature was released earlier this year by Instagram. It helped many users to restore photos, videos as well as IGTV videos as well.
Many of us encounter that in a rush, we accidentally delete posts that we shouldn't. In such a situation, it becomes challenging to figure out what exactly you are supposed to do, or perhaps, is there really a way to get back your deleted Instagram photos?
Before the release of the recently deleted feature, users could not restore deleted posts. The restoration process requires extra verification to control hackers from deleting posts permanently. It means you have to verify whether you are the correct person of the account holder.
If you are looking for a legit website to show ways of restoring deleted Instagram photos, you are at the right place!
In this article, we have mentioned a step-by-step guide to recover your deleted Instagram posts without any hassle!
So, let's get straight into the details.
How Can You Recover Deleted Instagram Posts?
As we know, Instagram already has the 'recently deleted' feature to restore any photos from posts. You can easily retrieve those deleted photos by following the steps mentioned below.
Note: You can only recover photos from the recently deleted feature on Instagram for the last 30 days. Once 30 days have been passed, you cannot recover the deleted post using the same feature.
Step 1: Download the latest Instagram app from Google Play Store or the App Store.
Step 2: Log in to your Instagram account using your ID and password.
Step 3: Head over to your profile and click the three-lined menu on the top right corner.
Step 4: Select the "settings" option.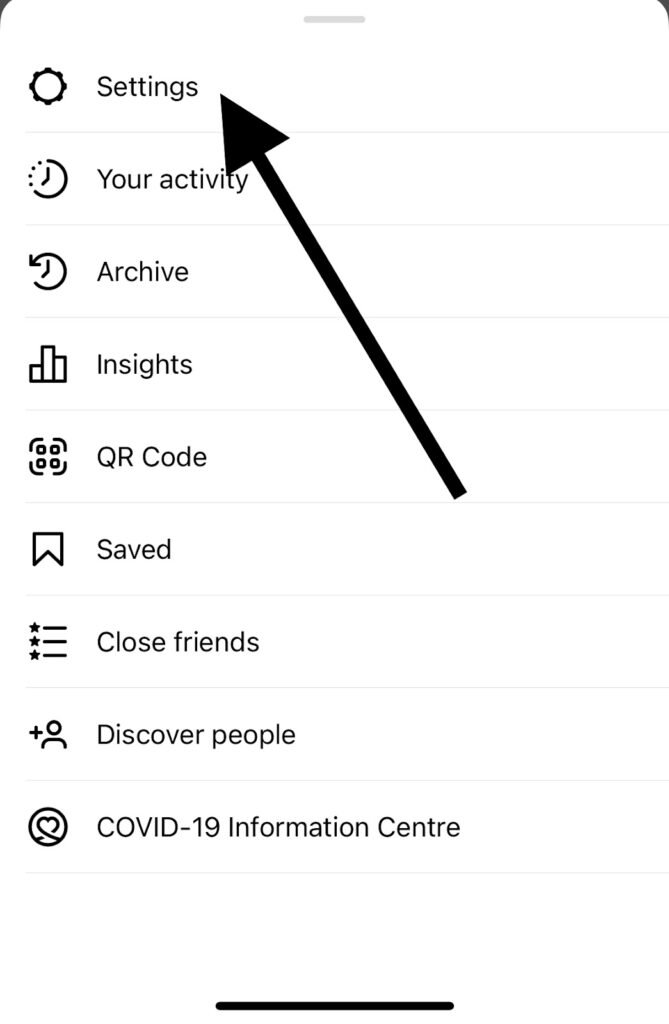 Step 5: Go to the search bar and search for "recently deleted."
Step 6: "Manage Recently Deleted" option will pop up. Select it.
Step 7: Here, you can see every deleted post that you have deleted within 30days.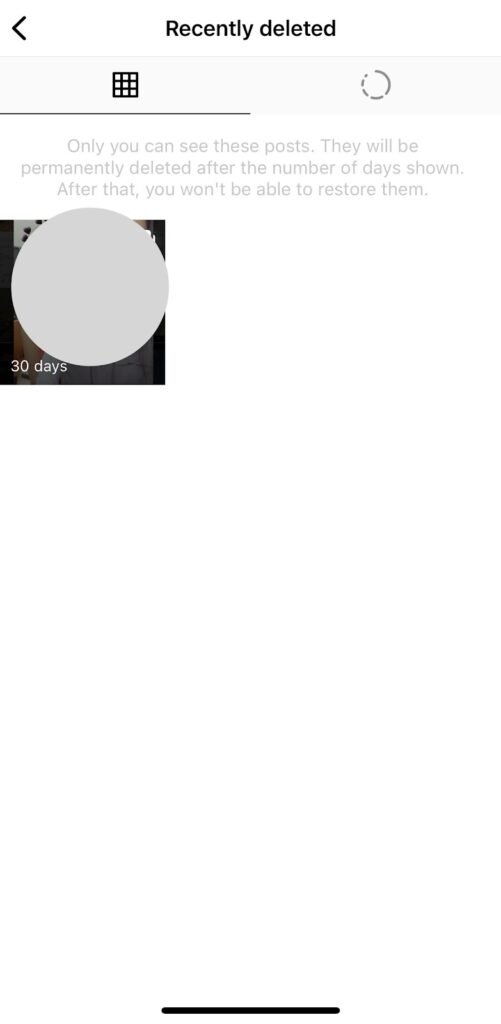 Step 8: you will get the option of permanently deleting the post or restoring it.
Step 9: To get back your deleted post, press the photo you want to restore.
Step 10: Next, click on the three dots at the top right corner.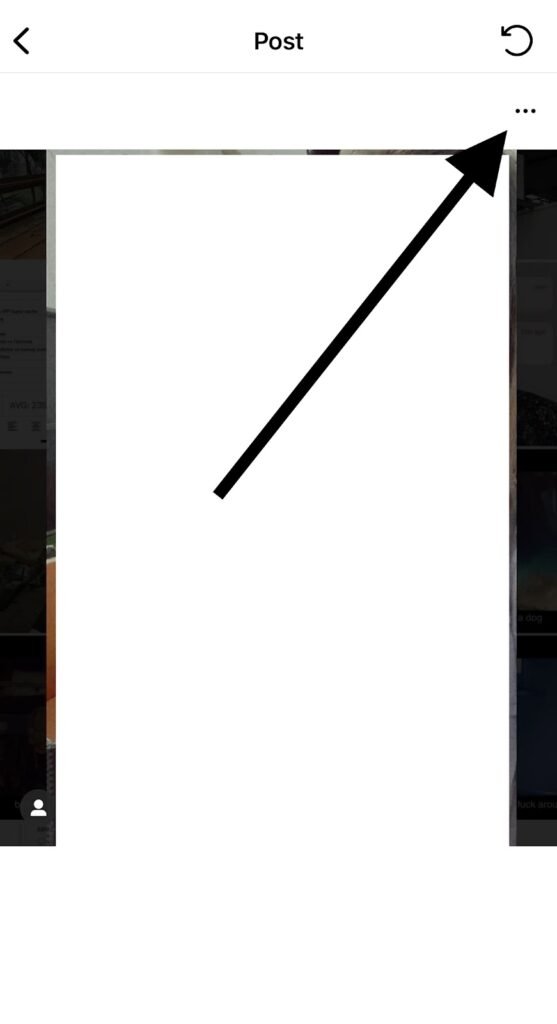 Step 11: Select "restore."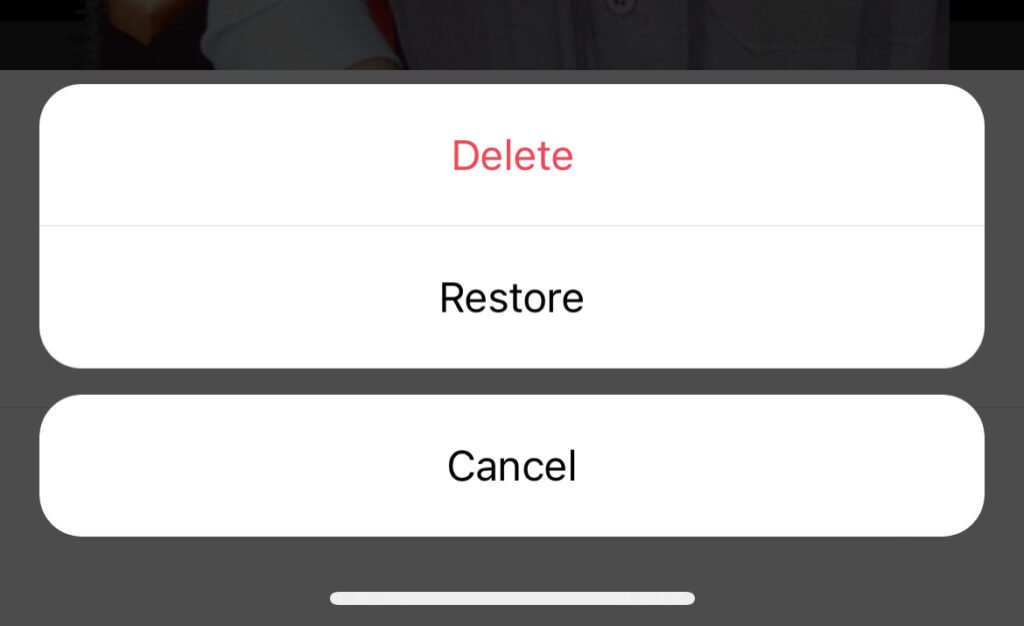 Step 12: You have to authenticate yourself before restoring the post. An OTP will be delivered to your phone number or email address.
Step 13: Enter the code and proceed to restore the post.
Note: Authentication may not be required in every case.
Congratulations! You have successfully recovered the deleted photos. Additionally, you can also use the feature to see your deleted stories.
How Can You Recover Deleted Instagram Photos Using a Third-Party App?
For iPhone
If you are an iOS user, you can get your deleted photos using third-party apps like Fonelab. Download the software on both your iOS device and PC.
Step 1: Launch the app on your iOS device and connect it to your PC or Mac using USB debugging. You will enter into the "recovery from iOS device" option.
Step 2: A scan will perform, and after that, your PC will display the deleted data of your iOS device. Select "App Photos" and click the Instagram file folder in the main interface.
Step 3: Select the photos you want to restore by marking, then click "recover" and select the destination of saving the deleted photos.
You can restore any deleted media from Whatsapp, Facebook, Viber, WeChat, etc.
For Android
You can restore deleted photos of Instagram using the Android Instagram Recovery tool. Download the app and run it on your device.
Step 1: Connect your phone to the PC, and the tool will automatically detect your phone. Turn on the USB debug mode on your phone. Select the file type of "Picture Library" to scan.
Step 2: Open the USB debugging mode and select the "Developer Options" before scanning.
Step 3: Now, you can see your deleted photos on Instagram. Mark and select the image you want to restore.
Wrapping up
It comes as no surprise that Instagram has become one of the most popular social media with millions of active users online. From rising influence culture to promoting small businesses online, it keeps winning hearts worldwide.
There are millions of people who post online every day on Instagram. Whether it is a story or post, the platform is always active and running! One of the prominent reasons behind its popularity is its exceptional features and the constant addition of new ones.
As you use Instagram to post online, there are chances that you want to delete a particular post, but end up deleting your favorite picture accidentally. If you are stuck in a similar situation, being confused about what to do next is common.
However, you can recover deleted photos easily with the methods mentioned above. We hope this article helped you restore pictures on Instagram without any hassle. Let us know which method worked the best for you in the comments section below!
Frequently Asked Questions
1. Will my followers again interact with my restored photo?
Yes, your followers can see your deleted post again after you restore it. They can like, comment, and share the post.
2. Can I restore photos that are deleted before 30days?
You cannot restore photos or any media content deleted 30 days ago. Therefore, restore any deleted content before 30 days.
Also Read: How to View Private Profile On Instagram