Are you struggling to find someone's phone number from Messanger? Don't worry this blog helps you.
If you are a Facebook user, you must have come across the Messenger app. It was developed by Facebook as a separate messaging app and now has various other features, such as voice and video calling. Facebook is the best way to find and get in touch with your long-lost friends, and Messenger lets you chat with them.
If sending a text seems too formal to you, and you want to find their number to give them a surprise call, it is certainly possible. If you're confused about how to proceed, you are just at the right place. Today, we will show you the steps of finding someone's phone number through their messenger profile and an alternate method as well.
Let's get started!
Is There A Way To Retrieve Phone Number From Messenger Profile?
Yes. As we have stated in the introduction, it is certainly possible to get someone's phone number from their Messenger account. Facebook requires its users to register their phone numbers when they create an account to establish Multi-Factor Authentication, which is a protocol to secure your account.
You can either register with your email ID or your phone number. However, most people nowadays carry a mobile phone and prefer getting updates on their phone. Therefore, there is a good probability that your friend has also used their phone number. But, there still might be one little issue here.
Facebook does not compromise with the safety of its users, and thus, it allows users to hide their contact information from their accounts to avoid inappropriate phone calls and messages. Even if your friend has used their number during registration, they can still go to their account settings and choose to hide it from strangers and even their Facebook friends.
Nevertheless, it doesn't hurt to try.
Steps To Find Someone's Phone Number From Messenger
A person would rarely reveal their personal phone number on social media. However, it's worth giving it a shot. After all, you will never know if you never try. Here are the steps to do it.
Step 1: Tap on the Messenger app on your phone and log in to your account if you're not already logged in.
Step 2: Click on the "People" icon at the bottom of the screen. It should appear as a two-person icon.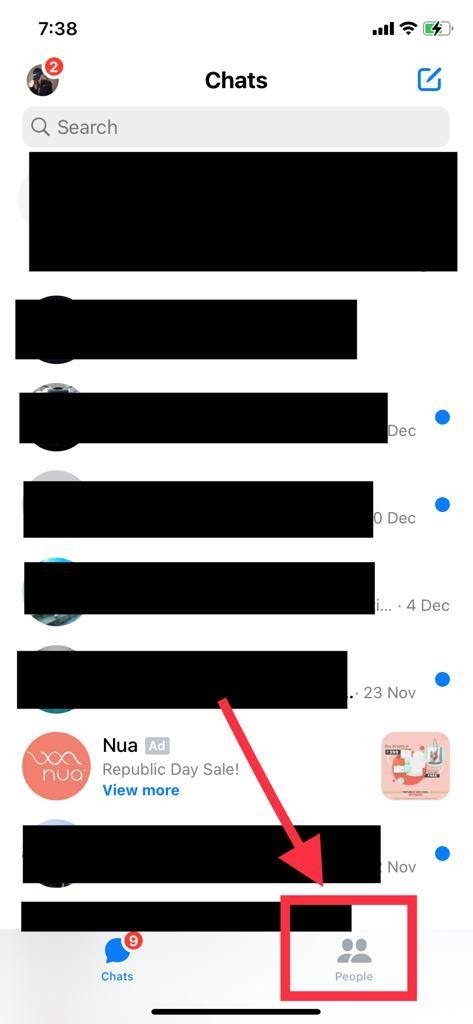 Step 3: Click on the little phonebook icon at the top right corner of the screen.
Step 4: A list of all of your contacts on Facebook should open up. Here, search for the person's name whose number you wish to obtain.
Step 5: Once you open the chat box with the person, click on their name at the top of the screen.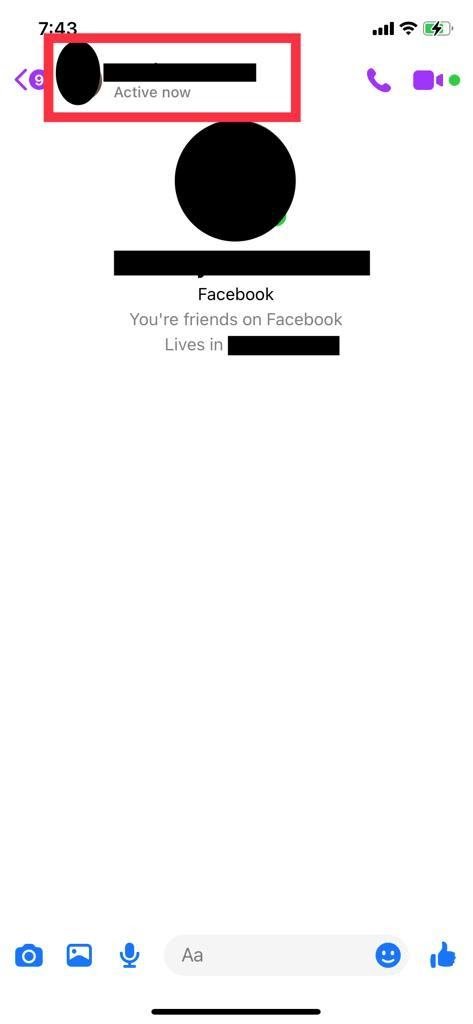 Step 6: Click on the little Facebook icon labeled "Profile" under the person's profile picture.
Step 7: Their Facebook profile should open up now. Spot the three dots on their profile with "See __'s About Info" written beside them and click on them.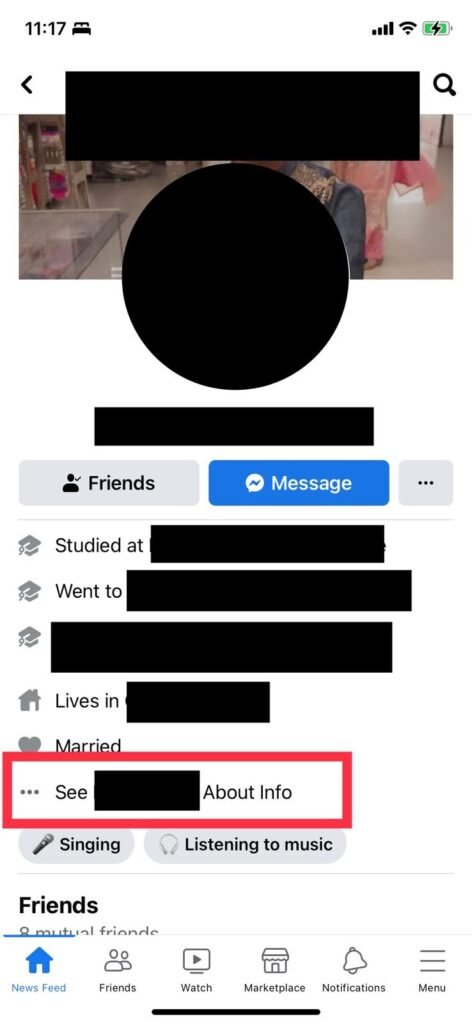 Step 8: Here, you will see various information regarding your friend. You can find their phone number under "Contact info."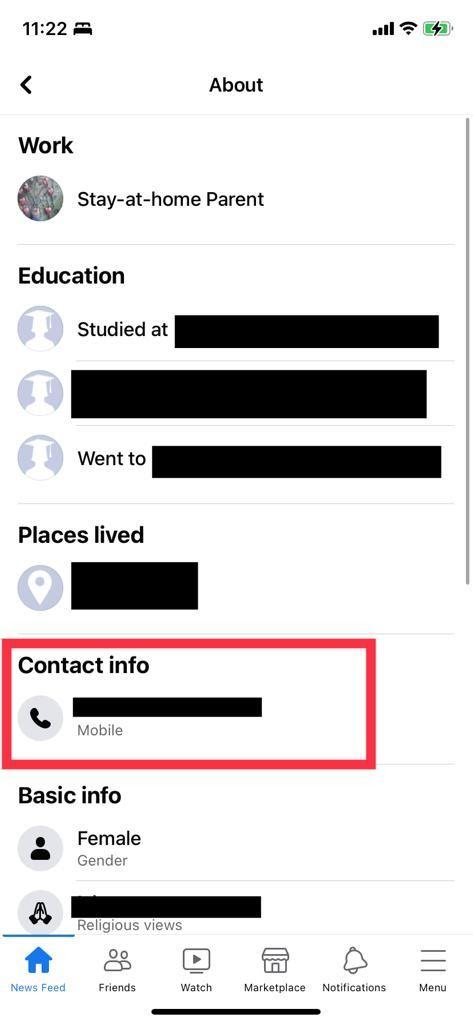 Congratulations! You have successfully found your number's phone number. It is noteworthy that for this method to work, it is required that the person has their phone number revealed on their profile. If not, you may find other information like their email ID or a link to their Instagram account.
It is noteworthy that you can use this method without opening Messenger. You can directly log into your Facebook account and continue from Step 7. Messenger is mainly used for communication between Facebook friends, and the Facebook app is used for sharing posts on the timeline. Therefore, all the available information about a person is usually found on the main profile rather than Messenger.
Are There Any Alternative Methods?
Your friend may want to keep their private information private. If that is the case, we are sorry to tell you that there is no way you can find their number on Facebook unless you directly text them and ask for it. You could always ask for their number if they are/were someone close to you.
However, if you are looking for an alternative method, the only option you might have is phone number lookup services. These are online services with huge databases with records of possibly millions of people. They have phone numbers, emails, addresses, social media profiles, and other details. You can find many such services online, both free and paid.
To locate the specific person, you need to enter as much information you remember about them, and the website narrows it down to a handful of people from which you can locate the person. This process can be pricey and time-consuming, but this is your last resort if you really want their number.
Wrapping up
The method to find someone's number through Messenger is not rocket science and takes less than 5 minutes. The real issue here is whether the person has made their contact information public or not. In most cases, such information is usually kept private. After all, who would want their number to leak and invite calls and texts from strangers from the Internet?
Still, give the method a shot. If that doesn't work, you can use the other method we suggested. Then again, spending your money to find one phone number does not seem like a very smart choice. But, if you're desperate, that's your only to go.
Frequently Asked Questions
We do not recommend downloading and linking third-party apps with your Messenger account as there is a possibility of your information getting stolen and leaked. Moreover, these apps do not work.
2. Why is Facebook showing me someone's phone number even though we are not friends?
Facebook allows users to set the privacy settings according to their preferences. If you are seeing someone's phone number, which is not on your friend list, it is because they have set their contact info privacy to "Public."
3. Can I ask Facebook customer support for someone's phone number?
No. Facebook customer support is there to solve your queries regarding the app and its usage. It does not reveal private information about its users.
Also Read: How To Search A Phone Number On Facebook